Print Friendly Version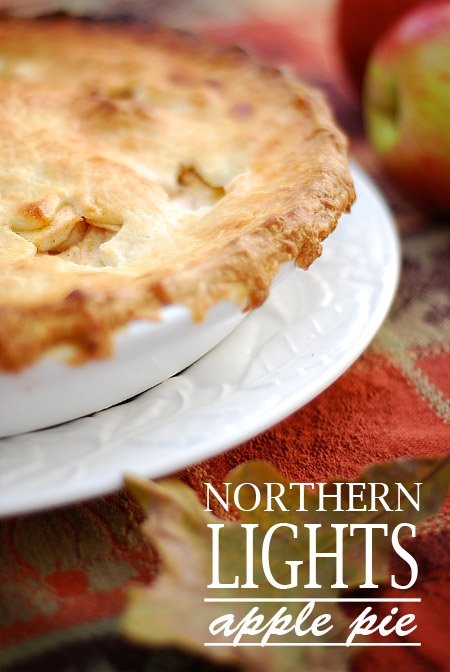 "You can't have Thanksgiving without turkey. That's like Fourth of July without apple pie, or Friday with no two pizzas." Joey from the television show Friends
After spending a lovely afternoon at our new favorite orchard in Prescott Wisconsin, I decided to make an apple pie using Northern Lights apples. These apples are not too tart, and not too sweet and I think they make a perfect apple pie filling. Jeff and Gracie agree. The pie was demolished in 2 days.
~Northern Lights Apple Pie~
Heat oven to 425 degrees F.
Start with the recipe for my no fail pie crust.
Make the filling:
6 medium Northern Lights apples
1 cup sugar
3 Tablespoons all purpose flour
1 teaspoon cinnamon
1/2 teaspoon nutmeg
1/4 teaspoon ginger
1/4 teaspoon salt
juice of 1/2 lemon
Wash, peel, core and thinly slice apples. Place in a large bowl and gently toss with the sugar, flour, cinnamon, nutmeg, ginger, salt and lemon juice. Place one pie crust in an ungreased, glass pie plate. Press firmly against bottom.  Spoon filling into crust. Top with second crust. Wrap excess top crust under bottom crust edge. Press edges together to seal. Flute. Cut slits or shapes into top crust to vent (this time I used a miniature star cookie cutter.) Bake 40 to 45 minutes or until apples are tender and crust is golden. Cover edge of crust with 3 inch wide strips of foil after the first 20 minutes of baking to prevent edges from burning. Cool on a wire rack at least 2 hours before cutting and serving. Enjoy with vanilla or cinnamon ice cream and a little caramel sauce drizzled over the top.
~Melissa
You may enjoy these related posts: