Print Friendly Version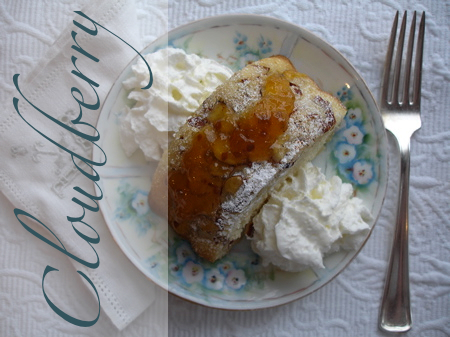 photograph by Melissa Placzek
I'm in the process of refining all of my pictures and developing my photography style. My husband is teaching me the mysteries of photo shop and I am smitten with the effects and embellishments this program offers. It's exciting to get closer to some final photos I can include in my proposals for the tea book. There are a couple houses I'm considering. Very, very fun!
So, today I made this traditional Swedish almond cake with cloudberry preserves that I purchased a few blocks away at the sweet Uff Da Shop on Main Street here in Red Wing.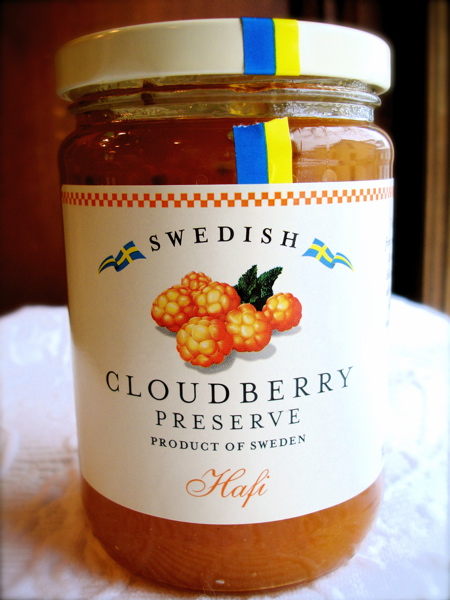 "The golden berry from northern Sweden. An arctic exclusive delicacy. A treat served with all desserts having whipped cream or as  warm topping for ice cream." ~from the jar label of Hafi Cloudberry Preserves
It's a simple elegant cake that goes especially well with my favorite Swedish tea, Soderblanding or a very close sister to this tea Lady Londonderry.
To make this lovely cake:
Preheat your oven to 350 degrees F.
Spray almond cake pan with cooking spray
scatter sliced almonds in pan
Beat:
1 and 1/4 cups sugar
1 large egg
2 teaspoons real almond extract
2/3 cup milk
Add:
1 and 1/4 cup flour
1/2 teaspoon baking powder
1 stick butter, melted
Mix well and bake for 45-55 minutes (until edges brown and a wooden skewer comes clean when inserted in center of cake.) Remove cake from oven. Cool for a few minutes. Loosen ends of cake with a sharp knife. Gently tap each end of cake pan on countertop. Invert onto a long cake or tart pan. Spread pan slightly. When pan releases the cake, allow it to fully cool before sprinkling with powdered sugar. Serve with whipped cream and Hafi's cloudberry preserves or  Queen's Blend preserves (if you prefer a darker jam.)
Enjoy!
~Melissa
You may enjoy these related posts: