Print Friendly Version
I would like to welcome the talented Mary Parks of Skrapyram back to ChinDeep. This is a fantastic article. Enjoy.
When Scott and I first moved to Ely, it was the dead of winter  – January 2006.  We were living in a little rented house out on the highway, didn't have jobs, and didn't know a soul. I was glad that I at least I had my knitting – luckily a friend had taught me how to knit the previous year.
Then, one day as I was flipping through a local magazine, I saw an ad for the local yarn shop.  The ad featured a drawing of a woman: she was sitting in a canoe, knitting!  Beneath her were the words "knit one, paddle two." The ad also mentioned that the shop hosted a knitting group on Wednesday nights.  Since I didn't have much going on at all, I was thrilled to make this discovery!  On the very next Wednesday evening, I hopped into our 4-wheel-drive RV (the only vehicle we had at the time) and lumbered on into town.  Little did I know the significance that first wintry knitting night would have in my life!  In fact, when Scott and I attempted to relocate (again) to Northern Washington, the yarn shop I found that night was one of the main things that pulled us back to Ely.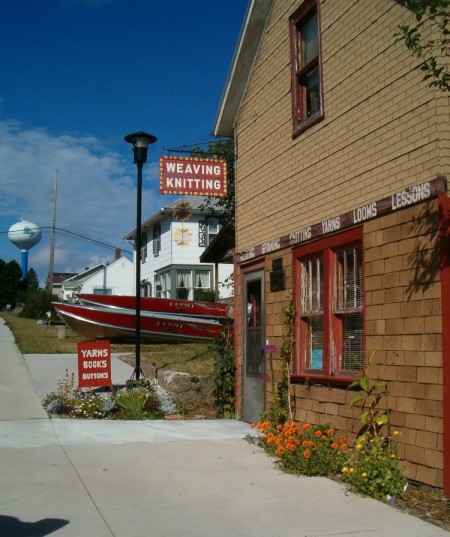 Of course, the shop is what it is because of its owner – Susan Saari.  Susan was born in Ely, but her family moved to the West Coast when she was 9.  As an adult, Susan went to school to be an English teacher and – as one of the first Peace Corps volunteers – served in northern Nigeria.  Later, she studied weaving at Pacific Basin School of Textile Arts.  In 1975, Susan moved back to Ely, bringing everything she owned in her VW Bug. Everything, that is, except for her Union Rug Loom and a spinning wheel which she had shipped.  Susan's Grandfather had run a shoe repair shop in Ely for years, and Susan purchased that building in 1976 and started Sisu Designs.  (Loosely translated, Sisu means "perseverance through difficult circumstances".  It's a Finnish term.)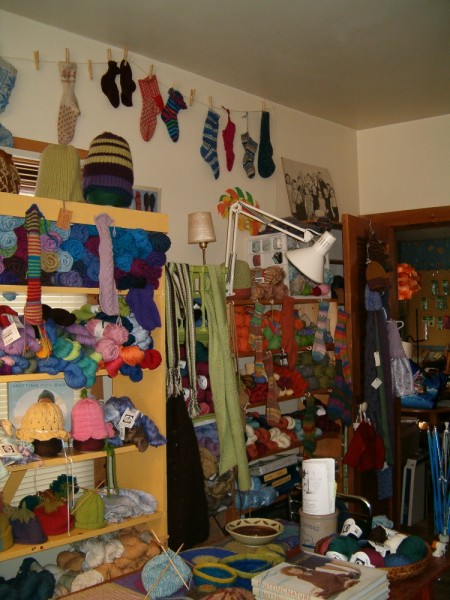 Sisu Designs started out as a weaving shop where Susan wove rag rugs, table cloths and runners, fabric and other items. She also taught weaving and spinning and did natural dying. Over time, knitting customers became more numerous than weaving and spinning students, so the shop focus shifted to yarn and other knitting supplies.  Now the shop also organizes several knitting retreats each year – I love the fact that these are referred to as "Lost in the Woods" knitting retreats!
When Scott and I returned to Ely in January 2008 (after our "extended Washington Vacation") I went straight back to Sisu Designs, were Susan once again welcomed me with open arms.  This time, she also welcomed Jack – my son who was a year old at the time.  I was now a stay-at-home mom, living in a rental house with no yard to speak of.  I desperately needed a little something to do out in the world, and Susan put me to work around the shop and gave me a yard to garden in.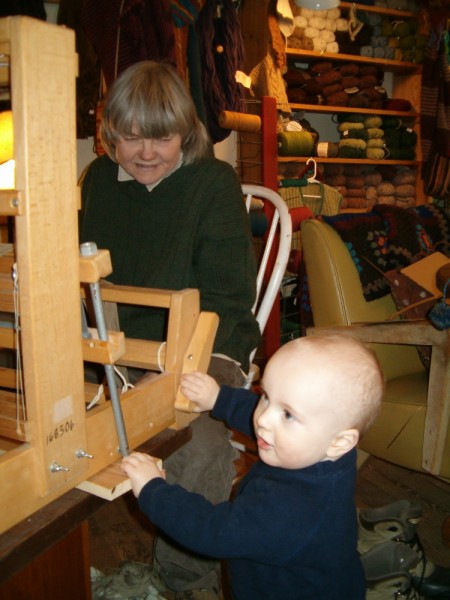 A few years have passed now, and some things have changed.  For example, I have a "day job" and live farther out in the country than I ever have, so I don't make it to knitting night very often any more. Nevertheless, I still stop into Sisu Designs as often as possible, and make sure that every knitter I meet knows about the shop.
If you find yourself in Ely, please don't miss this gem of a yarn shop!  It's at 31 West Chapman Street in the heart of town.  In all of my travels  (and I have been around!) I have never encountered a shop with the same combination of quality, natural yarn and positive, calming energy.  I also suggest – strongly –  that you try to attend one of Susan's retreats: You can find out about them by joining the yahoo group HERE.  In the meantime, you can visit the shop's SISU'S WEBSITE and take the virtual shop tour (If you look closely you might even see a photo of baby Jack and his rubber duck displayed on one of Susan's shelves!).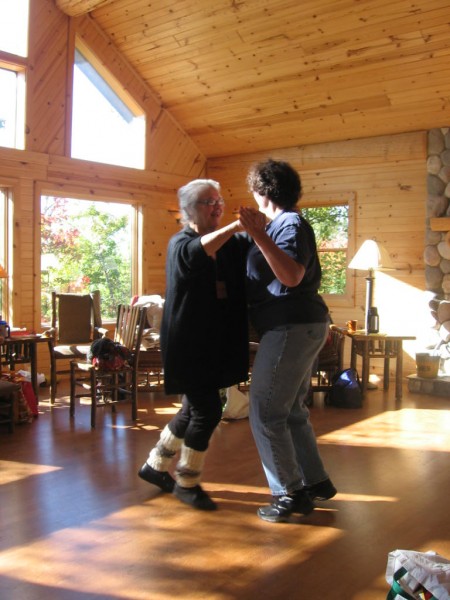 Happy knitting!
~Mary Parks
You may enjoy these related posts: