Print Friendly Version
My friend Nancy and I took a little day trip to Zumbrota yesterday. It was so nice to get out of town, if even for a few short hours. The covered bridge looked so beautiful covered in snow! Unfortunately I didn't get a picture of it covered in snow…maybe next time.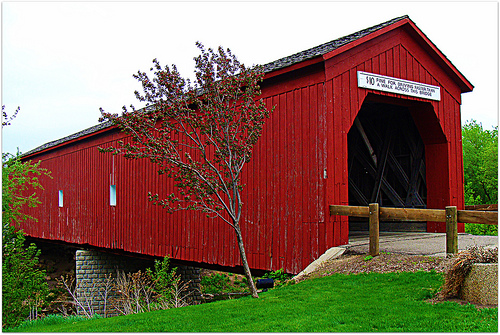 We had lunch at a cute little place called Bridget's Cafe. The food was really good, and the service was great. I'll definitely go back.
We went to a few cute little shops, but my favorite was the art gallery called Crossings. It's located in this awesome old library called "Carnegie."  I got Madeline these little, felted elf slippers for one of her birthday gifts. (I'll post a picture of her wearing them sometime.) Check out the Crossings website…they have tons of upcoming art camps for kids, concerts, art receptions, yoga classes, and a unique gift shop…the list goes on and on. crossingsatcarnegie.com
Before I go, on a completely different note, don't forget to watch "The Office" tonight! Pam and Jim are having their baby in an hour long special episode called 'The Delivery' at 8:00!  Jeff and I have been fans ever since the show first started. Can't wait!
~Melissa
You may enjoy these related posts: