Print Friendly Version
Did you make mud pies when you were little? I did. My cousin and I would spend hours in the back yard turning humble soil into beautiful works of art and then looking around for different berries, flowers and weeds for our 'spices.'
Mud Pies and Other Recipes-A Cookbook for Dolls is one of my favorite children's books and I thought of it a couple days ago when I was daydreaming about this upcoming summer. I just may whip up a batch of 'Dollypops' and 'Stuffed Seashells' when nobody's watching.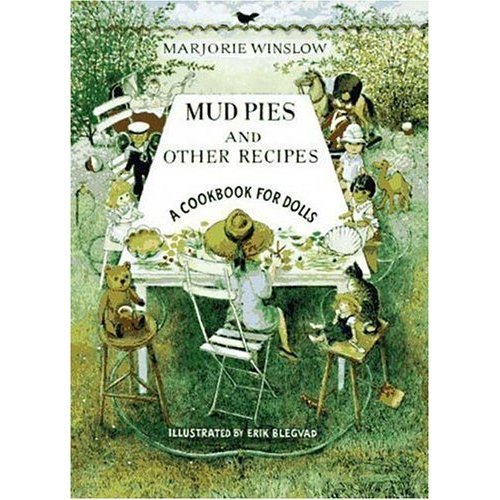 Doll cookery is not a very exacting art. The time it takes to cook a casserole depends upon how long your dolls are able to sit at table without falling over. And if a recipe calls for a cupful of something, you can use a measuring cup or a buttercup. It doesn't much matter. What does matter is that you select the best ingredients available, set a fine table, and serve with style.
STUFFED SEA SHELLS-
Scoop up a shovelful of sand that has just been licked by a wave. Pack this into the tiniest sea shells you can find . Sprinkle these with a pinch of dry sparkling sand and serve.
HOT DOGWOOD-
Pick a flower from a dogwood tree. Remove the petals and place them on a flat pan or rock. In each petal wrap a long green pine cone and secure with a toothpick. Broil in the sun.
FRIED WATER-
Melt one ice cube in a skillet by placing it in the sun. When melted, add 1 cup water and sauté slowly — until water is transparent. Serve small portions, because this dish is rich as well as mouth-watering.
DOLLYPOPS-
Pick a dandelion from the lawn carefully, so as not to disturb the fluff. Hand it to your doll and tell her to lick.
Love,
Melissa
You may enjoy these related posts: