Print Friendly Version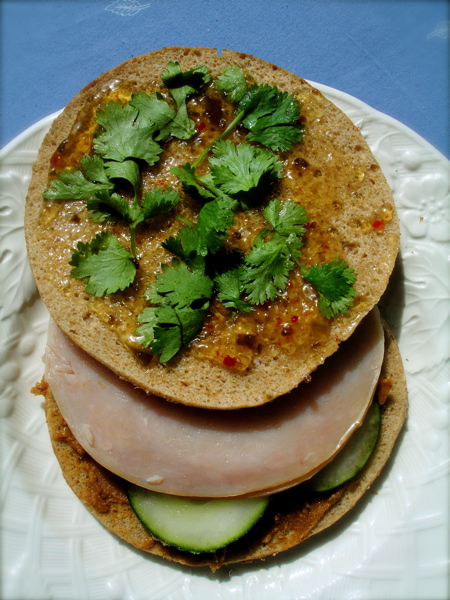 ~new pb&j~
This sandwich is a rendition of the recipe for "New PB&J" from the book Eat Smart, Walk Strong by Leslie Sansone. I love the interesting ingredients in this little sammy, and I love how she added the extra protein via turkey lunch meat. This is healthy, yummy and filling. The perfect lunch for people who want something a little different and who are trying to get into shape. I had one after my run today and three hours later I'm still full.
2 slices whole grain bread or a whole grain sandwich thin
2 Tablespoons natural peanut butter (I use Smucker's organic creamy)
1 teaspoon soy sauce
4 thin slices cucumber
2-3 slices unprocessed turkey breast lunch meat
1 Tablespoon hot pepper jelly
cilantro
Combine the peanut butter and soy sauce. Spread on one of the slices of bread or the bottom part of the sandwich thin. Press the cucumber slices into the peanut butter mixture. Top with the turkey. Spread the hot pepper jelly on the other slice of bread. Sprinkle with a little cilantro. Put the sandwich together, and enjoy with baked potato chips or fresh fruit.
What is your favorite healthy recipe?
~Melissa
You may enjoy these related posts: