Print Friendly Version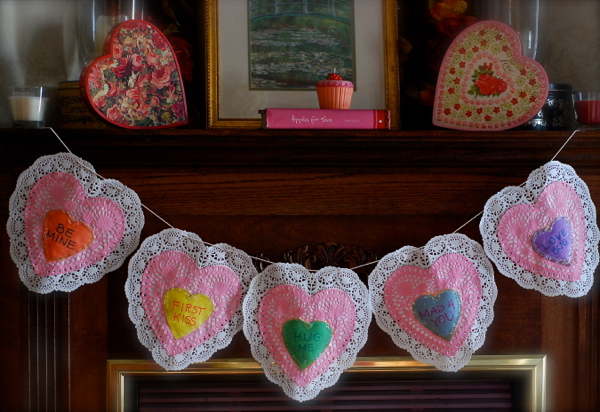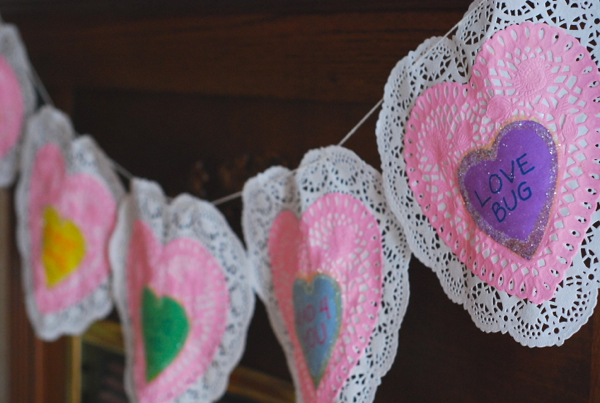 A Week of Valentine Treats ~ Day Seven
Conversation Hearts Paper Doily Garland
Happy Valentine's Day, Lovelies! I am popping in to share this treat with you before we head to the market to get the ingredients for our lunch and Valentine's Day celebration. I have to apologize for not sharing the full 7 treats this week, but I plan on making it up to you by sharing some bonus treats in the upcoming weeks.
Here's a little something you can make with your kids today if you like. It's so fun to create with kids! All you'll need for this are:
5 large white heart shaped paper doilies
5 smaller pink heart shaped paper doilies
5 construction paper hearts in varying colors
scissors
glue
a marker
glitter
string
Lay out your big doilies and glue the smaller ones to them. Write your favorite conversation heart sayings on the construction paper hearts and glue them to the pink doilies. Outline each construction paper heart with glue and then sprinkle glitter over it. Allow the hearts to dry (it will take an hour or two.) Gently weave a long piece of string through some of the holes at the top of the doilies. Decorate a mantle, wall or archway with the garland!
XOXO,
~Melissa
You may enjoy these related posts: