Print Friendly Version
Another easy Dutch oven meal for you and your family to enjoy…
~pork chops with apples & kraut~
8 pork chops
3 Tablespoons olive oil
1/4 cup white wine
1 teaspoon salt
1 teaspoon freshly ground black pepper
2 medium onions, peeled, sliced
1 large clove garlic, minced
4 large carrots, cut into sticks
2 apples, unpeeled, chopped
27 oz. can saurkraut, drained well
1 and 1/2 cups chicken stock or broth
1/4 cup brown sugar
2 teaspoons celery seed or fennel
1 teaspoon paprika
1/2 teaspoon pumpkin pie spice
1/2 teaspoon nutmeg
Heat olive oil in Dutch oven.
Brown pork for a couple minutes on each side.
Remove chops from oil and sprinkle with salt and pepper.
Deglaze pan with the wine.
Add onions to pot. Allow to reduce and caramelize a bit.
Add garlic. Cook 1 minute.
Add apples, kraut, brown sugar, stock and spices.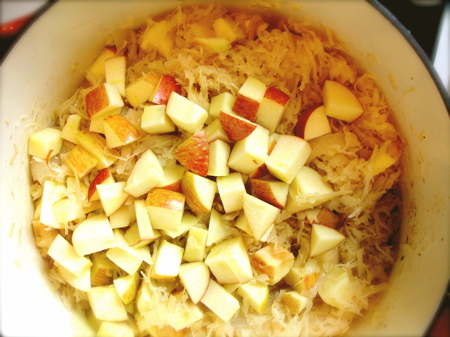 Stir to combine.
Add the carrots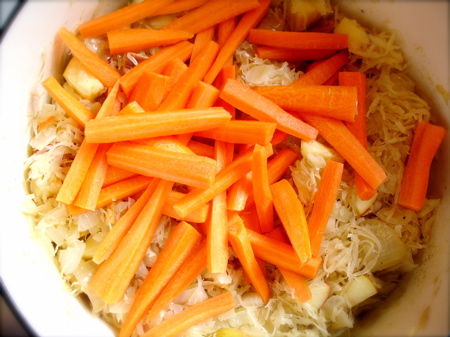 and finally, bury the browned chops in the kraut mixture
and sprinkle with a little more salt and pepper.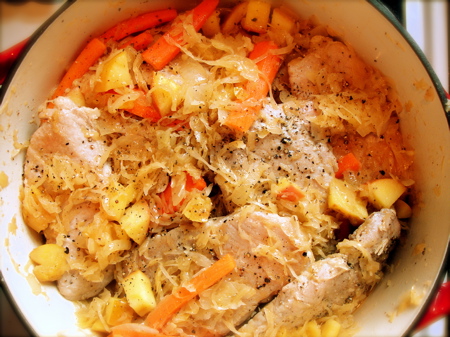 Cover and place on middle rack of oven.
Cook for 1  to 2 hours on 275 or until meat thermometer reaches 170 degrees F.
Enjoy with fresh bread or potatoes.
~Melissa
You may enjoy these related posts: