Print Friendly Version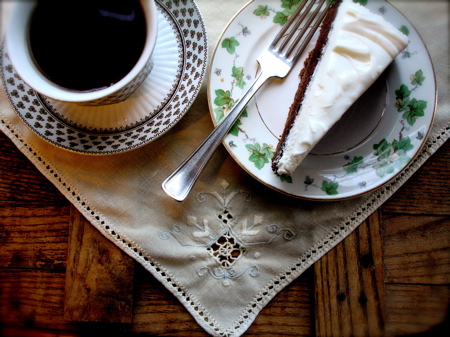 :: Tea of the Week ::
Irish Breakfast
Irish Breakfast, much like English Breakfast, is a hearty blend of black teas from Sri Lanka and India. It's the perfect accompaniment to a savory morning meal, or a high tea in the afternoon.
On St. Patrick's day I made a pot of Irish Breakfast tea to serve with this GUINNESS CAKE. It turned out so good, and it was so easy to make!
"James Joyce, a gourmand as well as a prolific writer, began Ulysses with not one, but two Irish Breakfasts. His protagonist, Leopold Bloom, recounted every meal consumed on what is now known as Bloomsday. The meal, also known as Fry, is typically served all day long, and consists primarily of porridge, bacon, sausage, smoked salmon, eggs and tea. The latter was required equally strong, as it was customary to dilute it with milk. The teas of Ceylon and Assam were judged equal to the task. However, the proportion of each varies greatly from blend to blend." ~From the Adagio Tea website
Appearance– Dark brown-amber liquor
Characteristics– Citrusy, malty and sweet. Jammy, fruity aroma. The flavors can be mellowed with a little milk.
:: Tea Fact ::
The Irish drink more tea than any other nation in the world.
~Melissa
You may enjoy these related posts: