Print Friendly Version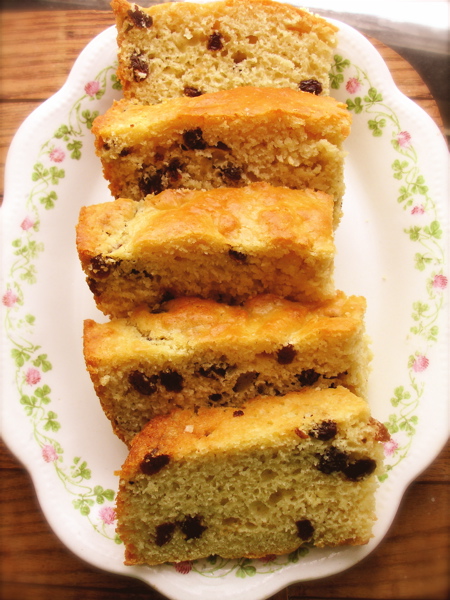 This recipe was adapted from one I found in my trusty copy of Joy of Cooking. I like it because it's slightly sweet and much more moist than traditional Irish soda bread. It's definitely more of a quick bread and less "biscuity." This is my go to Irish soda bread and I make it every St. Patrick's Day! I hope you love it as much as we do.
The original recipe instructions say to mound the dough on a greased baking sheet like a big drop biscuit. I prefer to make mine in a well-buttered loaf pan. Feel free to do it either way.
~ preheat oven to 375 degrees F. ~
1 and 2/3 cup all purpose flour
1/4 cup sugar
1 teaspoon baking powder
1/2 teaspoon baking soda
1/2 teaspoon salt
1 cup raisins or dried currants
2 teaspoons caraway seeds (optional)
1 large egg
2/3 cup buttermilk
4 Tablespoons melted butter
Generously butter an 8×4 loaf pan.
Whisk dry ingredients together in a large mixing bowl. Stir in raisins and caraway. In a separate bowl, mix the wet ingredients together just until combined. Add wet ingredients to dry ingredients and stir just until evenly moistened and combined. Don't overmix. Scrape into prepared pan using a rubber spatula. Dough will be stiff and sticky. Smooth top, and bake for 30 minutes or until a toothpick inserted into the center of the loaf comes out clean. Cool for 15 minutes in pan. Transfer to a wire rack to cool a bit more before slicing and serving. This bread can be served warm or at room temperature.
Enjoy!
~Melissa
You may enjoy these related posts: