Print Friendly Version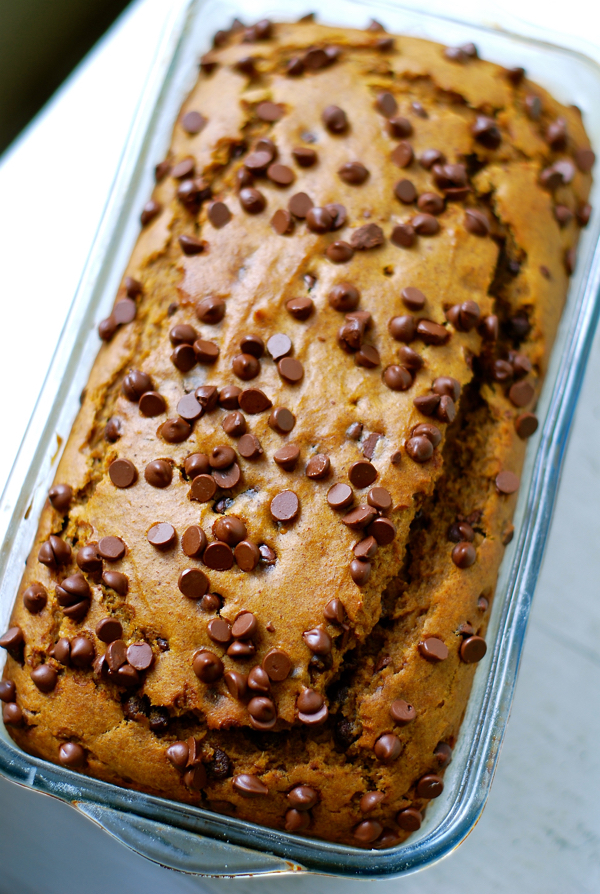 It's that time of year again! The time of year when everything is pumpkin spice and everything nice. I love it when we turn the calendar to September and the kids are back in school. My kids are done with school now, at least for the time being, and it's a bit strange, but I still like to see other kiddos walking up to the bus stop on a crisp, autumn morning. I still buy myself school supplies. Pencils, notebooks, planners. Sigh.
Some of my other favorite things about fall (I say some because it would be impossible to list them all) are: soup or stew bubbling away in the Crock Pot all day while I read and knit and bake. Decorating with pumpkin stuff and leaf stuff and then deciding I don't have enough pumpkin and leaf stuff and going to Target to get more. Jar candles that smell like apple cobbler, pumpkin pie, and moss. Fall picnics. Hot apple cider. Apple orchards. And, you guessed it, cooking with pumpkin. Pumpkin bread is at the top of that list. I mean the tippy top.
Now, I had a favorite pumpkin bread that was my tried and true recipe prior to going vegan. Vanilla Pudding Pumpkin Bread. It's the stuff dreams are made of. Unfortunately, it doesn't translate well when you substitute vegan ingredients. I may perfect it in the future, and if that day comes, you will be the first to know. I've only been vegan for about a year and a half and for some reason baked goods weren't at the top of my list. I had to perfect things like substitutes for ricotta in lasagna, how to make gravy, something besides black beans to put in tacos, what I was possibly going to do when the craving for egg salad struck, what to put in gyros besides portobello mushrooms because, NO, they don't taste the same as gyro meat. Stuff like that. Important stuff. So, now that it's fall again, and pumpkin season, I had to find a pumpkin bread recipe tout de suite. And, not just any old recipe for pumpkin bread. It had to live up to the legend that is my other pumpkin bread. I had my work cut out for me.
Guess what? I did it. The recipe below is soooooo extremely good you are going to want to make pumpkin bread every day. And, don't let the fact that you'll have leftover pumpkin in the can when you're done keep you from trying this. Use it in a smoothie or chili or something.
Feel free to make this with or without the chocolate chips. Substitute nuts or raisins for the chips if you wish.
~ preheat oven to 365 degrees F. ~
1 and 3/4 cup unbleached, all purpose flour
1/2 cup + 2 Tablespoons powdered sugar
1/4 cup packed brown sugar, slightly heaping
2 and 1/4 teaspoon baking powder
1/4 teaspoon baking soda
1 teaspoon sea salt
1 heaping Tablespoon pumpkin pie spice
1/4 teaspoon ground cloves
3/4 cup mini, vegan chocolate chips (optional)
1 cup pure pumpkin puree
1/2 cup unsweetened soy milk
4 Tablespoons vegetable oil or melted vegan butter
1 Tablespoon molasses
1 teaspoon apple cider vinegar
2 to 3 Tablespoons more chocolate chips for topping loaf (optional)
Grease and flour a loaf pan.
In a large mixing bowl, combine: flour, sugars, baking powder, baking soda, salt, pumpkin pie spice, and cloves. Mix with a wire whisk. Set aside.
In a medium mixing bowl, combine: pumpkin puree, soy milk, oil, molasses, and vinegar.
Add wet ingredients to the dry ingredients. Stir until combined. Fold in the chocolate chips, if using. Scrape into prepared loaf pan, using a rubber spatula. Smooth top. Sprinkle remaining chips on top.
Bake for 40 to 50 minutes, or until toothpick comes out with a few moist crumbs on it. Cool in pan for 15 minutes. Remove from pan and place on a wire rack to cool completely before slicing and serving.
Enjoy!
~ Melissa
You may enjoy these related posts: