Print Friendly Version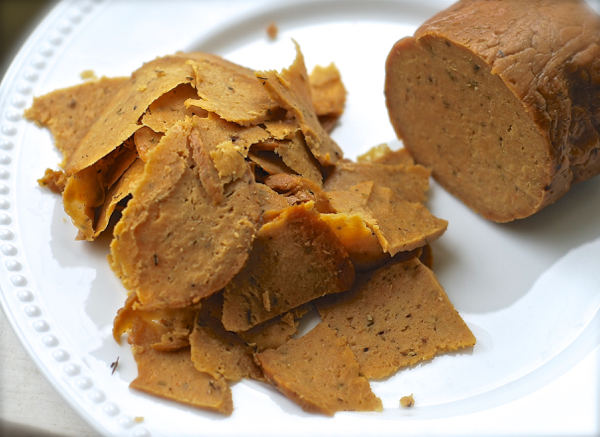 This is an awesome recipe for when you're craving certain "meaty" sandwiches, but aren't a meat eater. This seitan recipe is seriously awesome, and it took me a few tries to perfect, but here it is. SO good as BBQ "beef," gyro "meat," or the filling for a vegan philly cheesesteak! (Recipes for all of these coming soon!) I'm sure it would be good in other things too. I imagine it would translate well to a Italian "beef" sandwiches, French dips, Reubens… You get the idea. This seitan is delicious and versatile. I hope you love it as much as we do!
~ preheat oven to 350 degrees F. ~
3 cups vital wheat gluten
1/4 cup nutritional yeast
2 teaspoons onion powder
1 teaspoon sea salt
2 teaspoons smoked paprika
2 teaspoons garlic powder
2 teaspoons dried thyme leaves OR 1 Tablespoon fresh
2 Tablespoons dried oregano
1 teaspoon ground pepper
2 and 1/2 cups vegetable stock
1/4 cup vegetable oil
2 Tablespoons soy sauce ( I use low sodium)
2 Tablespoons cider vinegar
1 Tablespoon tomato paste OR 1 Tablespoon Dijon mustard
In a large mixing bowl, combine the vital wheat gluten, nutritional yeast, spices and herbs. Whisk well to combine.
In another mixing bowl, combine the veggie stock, oil, soy sauce, vinegar, and tomato paste/Dijon. Whisk well to combine.
Pour the wet mixture into the dry mixture and stir to combine. When it becomes too difficult to stir, use your hands to knead and pull it. You should start to see thick, elastic-like, strands. This is the gluten binding together. The mixture will be very thick, but moist and slippery. It shouldn't stick to your hands. Pull and stretch for a couple minutes, and then knead a few times. Finally, press it together and then form a long log. (Approximately 10 inches long and 5 inches in diameter.)
Wrap the log tightly in a couple pieces of cooking parchment, so no dough is showing. Then wrap it tightly in a large piece of heavy duty aluminum foil. Use as much as you need so it's tightly wrapped and secure, and no dough is exposed. Place the log on a baking sheet and bake in the preheated oven for 2 hours. It should feel very firm when you remove it from the oven. Keep it wrapped and allow it to cool to room temperature before placing it in the refrigerator to cool overnight. Keep it wrapped.
The next day, unwrap the seitan log and cut off what you'll need for sandwiches. Using a mandolin, or very sharp knife, cut the seitan into very thin slices. Wrap whatever you won't be using right away in an airtight container, and store in refrigerator. Enjoy within 10 days, or freeze, and eat within 2 months.
Enjoy!
~Melissa
You may enjoy these related posts: