Print Friendly Version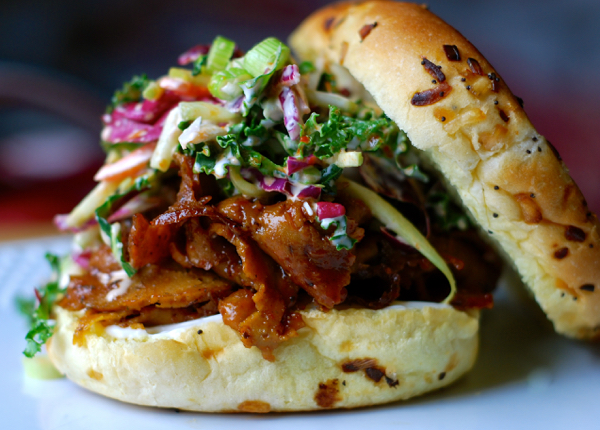 Ooh! Are you ready for this? I've created some AMAZING sandwiches using my "beefy" seitan! (Click on the link for the recipe for the seitan.)
This is my take on vegan BBQ "beef." It is SO good that my omnivore hubby has started requesting it! And no wonder. It's tender, smoky, bourbony, BBQ deliciousness on a bun. I've topped it with cold, cruncy, spicy slaw that will knock your socks off.
for one sandwich:
approximately 3/4 cup thinly sliced beefy seitan (I used a mandolin)
1 Tablespoon vegan butter
2 Tablespoons vegan Worcestershire sauce
a generous amount of your favorite sweet, smoky BBQ sauce (I used Heinz Bourbon BBQ)
one vegan sandwich bun (onion, if you can find them)
vegan mayo for bun
spicy sriracha kale coleslaw (recipe below)
Place the thinly sliced seitan in a non-stick skillet over medium-high heat. Add the vegan butter and saute until browned and a little crispy along the edges. Add the Worcestershire sauce and saute until the seitan absorbs the liquid. Add desired amount of BBQ sauce and heat just until warmed.
Slather vegan mayo on the bottom half of your onion bun (or other favorite bun/bread.) Top with the seitan, more BBQ sauce if you wish, and approximately 1/2 cup of the slaw. Top with the top bun.
for the spicy sriracha coleslaw:
1 bag kale slaw mix OR tricolor coleslaw mix
desired amount of vegan mayonnaise (I used about 1/2 heaping cup)
sriracha hot sauce, to taste (I used a couple Tablespoons)
sugar or agave syrup, to taste (I used about 1/2 teaspoon)
1/2 teaspoon apple cider vinegar
sea salt and freshly ground black pepper, to taste
Mix all in a large bowl with a lid. Stir until thoroughly combined. Cover and refrigerate what you don't use right away. This slaw will keep for up to 3 days in your refrigerator.
Enjoy!
~ Melissa
You may enjoy these related posts: