Print Friendly Version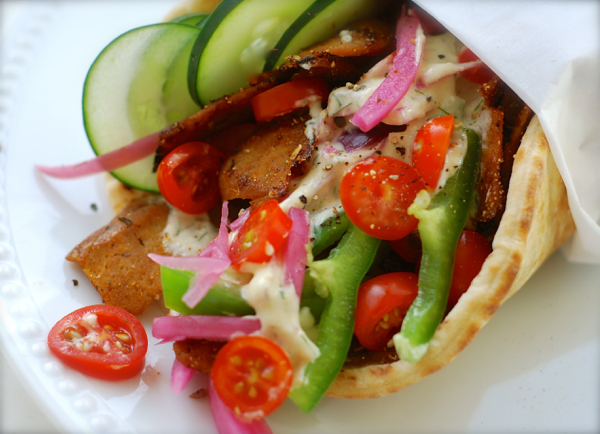 Hello there, Friends! I made vegan gyros using my new favorite "beefy" seitan and thought I'd post the recipe so you could try it. You'll want to start by making up a batch of the beefy seitan which will yield enough for 8 to 10 sandwiches. Wrap up what you don't use right away and store in fridge for up to 14 days.
Click here for the BEEFY SEITAN RECIPE.
for the vegan gyros:
shaved beefy seitan
a little olive oil and vegan Worcestershire sauce for sauteeing
vegan pitas
thinly sliced red onion OR easy pickled red onion
thinly sliced cucumber
thinly sliced sweet bell pepper
halved grape or cherry tomatoes (or other tomato, thinly sliced)
homemade vegan tzatziki (recipe below)
Place some of the shaved (or very thinly sliced) seitan in a skillet over medium heat. Add a little olive oil and vegan Worcestershire sauce to the pan and saute until heated through and slightly browned.
Stuff the pitas with the beefy seitan and other ingredients. Top with a generous drizzle of vegan tzatziki sauce.
for the vegan tzatziki:
1 cup soaked cashews
1/4 cup fresh lemon juice
2 to 4 Tablespoons Tahini
2 large garlic cloves, minced
1 Tablespoon onion powder
5 Tablespoons water (or more as needed to thin to desired consistency)
1 small cucumber, peeled and diced
1 to 2 Tablespoons fresh dill, chopped
1 Tablespoon fresh parsley, chopped
2 teaspoons fresh mint, chopped
salt and pepper, to taste
After the cashews have been soaking 4 to 8 hours, drain them well and place them in the bowl of a blender with the lemon juice, tahini, garlic, onion powder, water, salt, and pepper. Mix until very creamy, scraping down sides of blender as necessary during mixing process.
Place in a medium mixing bowl and add the rest of the ingredients: cucumber, dill, parsley, mint, salt, and pepper. Gently stir to combine.
Serve with gyros, falafel, or as a veggie dip.
Enjoy!
~Melissa
You may enjoy these related posts: