Print Friendly Version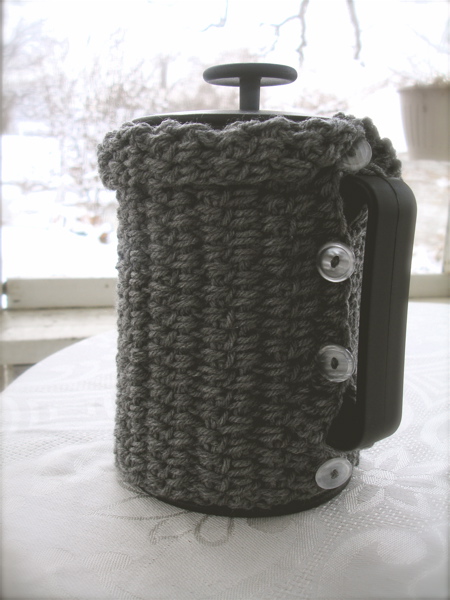 After going through my studio last week, and seeing exactly how ginormous the yarn stash has become, I decided it was time to start using up some of those skeins if I ever want to even think about entering a yarn store again.
I've always thought a cozy for a French press is a brilliant idea, but I'd never gotten around to making one. It was on my list of things to try, so I looked around online for an easy pattern. I thought, maybe if they crochet or knit up quickly enough, I would make them for the dozen or so friends I have that own either the model pictured above (glass with a plastic holder) or the Chambord model (glass with a stainless steel holder.)
I found a fantastic little pattern over at Crochet Every Day. It took me a couple hours to make this. Easy peasy! I didn't believe that the number of stitches the pattern gave me would make a tall enough cozy (silly me) so I added a few stitches. You guessed it, the darn thing turned out too tall. Soooo…I decided to just go with it and do a slouch "cuff" on the top of the cozy. I personally think it improves the pattern, although the original is adorable. I like how the pattern designer changed yarn colors at the end…it really shows off the cute buttons. I'm going to try that next time. If you want to make one with a cuff at the top just increase the amount of stitches in the base chain by 4.
Are you working on a project or series of projects for holiday gifts? I'd love to hear about it!
XO,
~Melissa
You may enjoy these related posts: