Print Friendly Version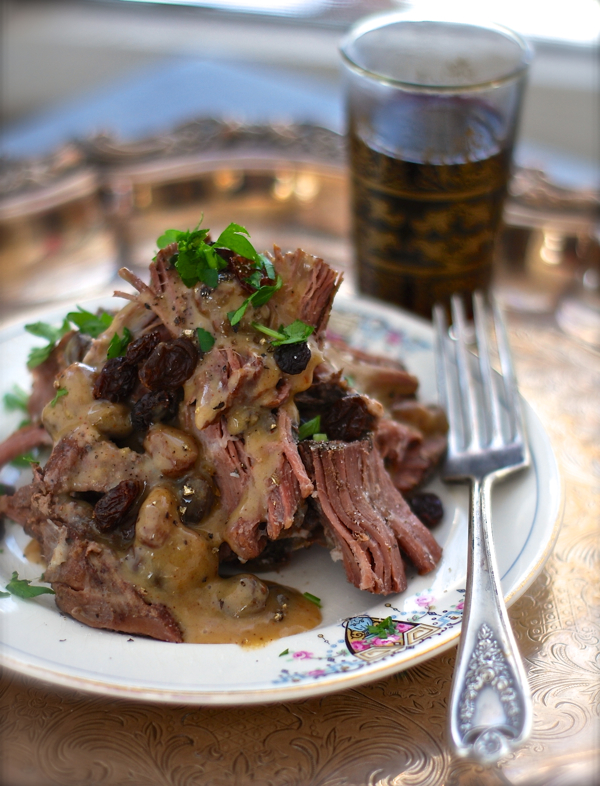 Wow, what a full week. I'm pretty tired, but in a good way. I feel like I accomplished a lot in these last five days. I did tons of spring cleaning, writing, photographing and illustrating. I tried to pretend that it wasn't snowing outside in May, and I even reorganized my yarn/craft closet. Ahhhhh, all is well with the world.
Here's a delicious recipe for one of my favorite comfort food dishes. I made this in the middle of winter, but apparently Minnesota doesn't know the difference between seasons. So, if you live in my neck of the woods, this recipe works pretty much any time of year.
for the roast:
3 to 4 lb. chuck arm roast
1 large white onion, coarse chopped
2 teaspoons salt
about 1 Tablespoon freshly ground black pepper
Place roast in a large, cast iron Dutch oven along with the onion, salt and pepper. Add enough water to fully immerse the meat. Bring to boil. Skim surface. Reduce to a very low, gentle simmer, and cover with lid. Simmer for about 2 and 1/2 hours or until the meat is very soft and practically falling apart. Check water occasionally and add more as needed.  Remove from heat when done.
for the sauce:
2 Tablespoons butter, melted
2 Tablespoons flour
juice of 1/2 lemon
1/4 cup brown sugar
1/2 teaspoon ground cinnamon
1/8 teaspoon nutmeg
1/8 teaspoon ground cloves
1 cup raisins
1/4 cup heavy whipping cream
Place butter and flour in a saucepan and mix together. Heat just until fragrant and slightly amber colored, mixing constantly.  Add 2 and 1/2 cups of the beef broth (from the roast), lemon juice, sugar and spices. Mix well with a wire whisk until smooth. Add raisins and stir until it thickens a bit. Add cream. Stir until mixture just starts to bubble.
Shred meat into thick chunks and serve with the raisin sauce spooned over. This meal is wonderful paired with a dry sherry.
Enjoy!
~Melissa
You may enjoy these related posts: