Print Friendly Version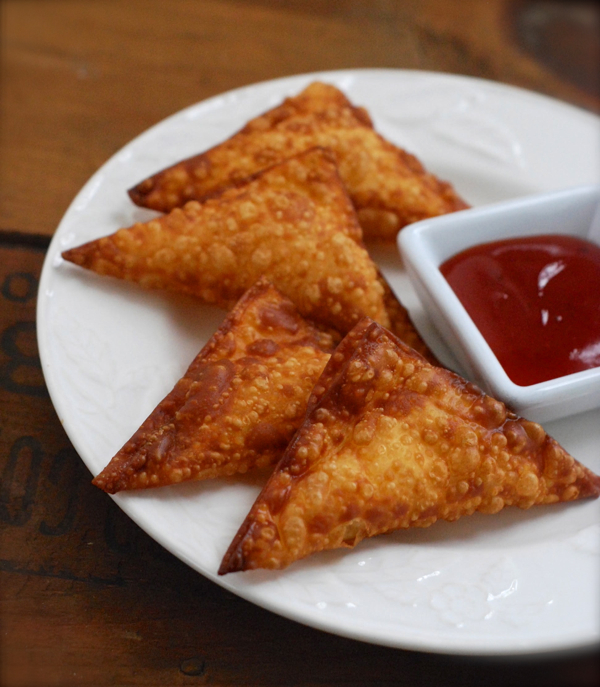 This time of year we love to make special appetizers for our Friday night cocktail hour on the deck. Jeff is usually busy grilling something for dinner while I play in the kitchen. Here's what I made this past Friday, and they turned out fantastic. If you're just serving these as an appetizer, as we did, I'd suggest only making about 4 for each person so everyone doesn't get full before the main meal is served.
makes approximately 40-48 filled won tons:
peanut oil for frying
1 package won ton wraps
2 teaspoons olive oil
1 teaspoon toasted sesame oil
1 large clove garlic, minced
2 green onions + green tops, chopped
8 oz. cream cheese, softened to room temperature
1/2 cup to 1 cup crab meat (if using canned, drain very well)
1/4 teaspoon sugar
sweet & sour sauce
hot mustard sauce
soy sauce
Sriracha hot sauce
Place about 2 to 3 inches of peanut oil in a wok or deep, cast iron Dutch oven. Set Aside.
Heat the olive oil and sesame oil in a skillet. Saute garlic and onion for 2 minutes. Allow to cool completely. Once cool, combine the garlic mixture with the cream cheese, crab meat and sugar.
Take one won ton wrapper and place 1 teaspoon of the mixture in the center of the square. Wet the edges of the wrapper with a little water. Fold wrapper, corner to corner, to form a triangle and press edges to seal completely so the cheese mixture doesn't leak out during the frying process. Repeat with remaining wraps until you either run out of wraps or filling.
Heat the peanut oil until it reaches 350 degrees F. Fry 4 to 6 won tons at a time, turning until they're a deep golden brown. Transfer to paper towel-lined plates and repeat until all of them are fried. You can keep them warm in a very low, preheated oven, so they don't cool off before you get to serve them.
Serve with sweet & sour, hot mustard, soy sauce and hot sauce for dipping.
Enjoy!
~Melissa
You may enjoy these related posts: