Print Friendly Version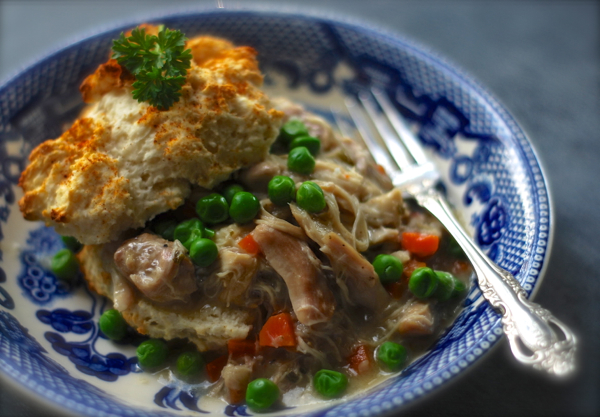 Well, it's the first day of school again. Can ya believe it? The summer certainly did fly by, and it was a HOT one too. We did so many things in the last few months and had lots of fun along the way. I'm always sad to see summer go… but happy to see autumn arrive. Bittersweet.
Now it's time to… get the house all cozy, and do my fall decorating…  bake bread and make soup…  enjoy back yard campfires and make s'mores…  go for morning autumn walks and have tea on the front porch with my hubby, take meditative strolls through the nearby woods … make Crock Pot applesauce and apple butter (after apple picking with my friend Nancy)… visit our favorite apple orchard for an apple picnic… and so much more! What are your favorite autumn rituals?
Another thing I love about fall is comfort food. I frequently employ our Crock Pot for this purpose. I use to just take it down when the temperature dropped, but am happy to report it is just as wonderful to have around on hot summer days when you don't want to heat up your kitchen. I have to say, coming home to a delicious, hearty meal after swimming at the beach or quarry this past summer was perfect. Truly an awesome, almost magical, little appliance.
Here's another Crock Pot/ Slow Cooker recipe that I developed. This time I was inspired by my friend Danielle's Cozycakes Cottage Beef Stew. When I made that recipe it gave me an idea. Several, actually (which I will be testing, posting and sharing with you in the coming weeks.) If you look at these recipes you'll see some key similarities, and just enough differences to create a new, delicious amazing meals. This particular recipe for Crock Pot Chicken a la King really turned out yummy! Thanks again for the inspiration, D!
3 lb. boneless skinless chicken thighs
2 Tablespoons olive oil
coarse sea salt and freshly ground black pepper
1 medium onion, chopped
1/2 of a large, sweet bell pepper (any color) chopped
3 cups chicken broth
1 cup white wine
4 large carrots, peeled and cubed into small, uniform pieces
2 bay leaves
6 Tablespoons quick cooking tapioca
1 garlic clove, minced
2 Tablespoons fresh chopped parsely
1 teaspoon fresh chopped rosemary
2 large, fresh sage leaves, chopped
1/2 teaspoon nutmeg
1 and 1/2 cups frozen peas
1/2 cup half & half or cream
Brown the chicken in the oil. Place it in the Crock Pot. Sprinkle salt and pepper over the meat. Add the onion and bell pepper to the oil and chicken drippings in the skillet. Saute until translucent and tender. Add the onion and the bell pepper to the crock pot along with all the other ingredients EXCEPT the peas and cream. Stir well, cover and cook on high for 4 and 1/2 hours. (If the sauce doesn't seem thick enough at this point, add an extra Tablespoon or two of  tapioca.) Turn on low, add peas, and cook 1 more hour.
Stir, and using a spoon, break up the chicken meat. Stir in the cream.
Serve the Chicken a la King over homemade milk biscuits, buttered toast points or prepared puff pastry shells.
Enjoy!
~Melissa
You may enjoy these related posts: