Print Friendly Version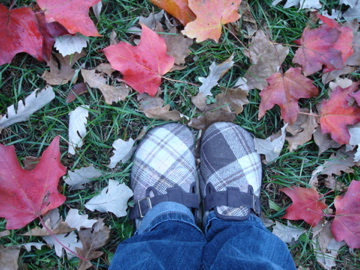 Jeff and I take a walk together every morning after seeing Gracie off to school. The school bus drives away, and the next half hour or so is ours. Some mornings, like this morning, are beautiful. Often we bring mugs of tea with us and we talk about our plans for the day, or what we're currently working on. Today the air was crisp, the sun was just starting to rise over the bluff turning it a tawny shade of gold and the clouds pink. The leaves are changing here in Red Wing which is an amazing sight to behold. Many people travel here in the autumn to witness the natural beauty taking place in the Mississippi river valley.
Join us this autumn for the Red Wing Fall Festival of the Arts!  Browse our quaint farmer's market, take a trolley ride or boat excursion, have brunch at the St. James hotel, go to a wine tasting at Falconer Vineyards, and hike the Cannon Valley Trail. Visit the Red Wing Website for more ideas.
What are your favorite things to do this time of year?
~Melissa
You may enjoy these related posts: