Print Friendly Version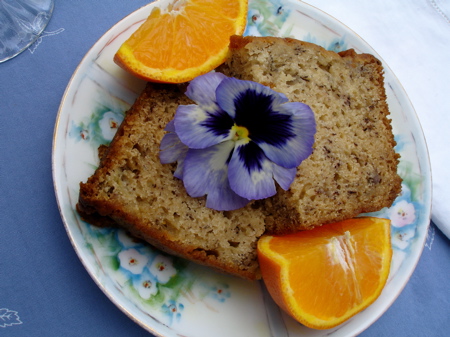 Today I'm sitting on our front porch. I covered the little table with a favorite old quilt, lit a sandalwood jar candle, made a pot of jasmine-scented black tea and gathered my writing stuff.
It's fun for me when a new school year begins because I sort of feel like I'm going back to school too. We keep summer vacations pretty lazy and carefree around here. Lots of spur of the moment picnics, beach days, bike rides, nature walks and day trips. We love the casualness of it all, but there's something comforting about returning to a schedule. It makes me feel grounded.
Our days definitely start earlier in the autumn. No more late night movie marathons and sleeping in until 10 AM. Quick breakfasts have taken the place of leisurely brunches, and I've been thinking about making some breakfast cookies, homemade granola and a loaf of this classic sour cream banana bread to make our mornings a bit easier, especially on days when we're running late.
What are your favorite "on the go" breakfasts? I would love some inspiration, and recipes, if you're willing to share.
~ Preheat oven to 350 degrees F. ~
4 very ripe bananas
1 cup brown sugar
3/4 cup unsalted butter, melted
2 large eggs
1/3 cup whole milk sour cream
2 teaspoons pure vanilla extract
2 cups all-purpose flour
1 and 1/2 teaspoons baking powder
1 teaspoon sea salt
1/2 cup coarsely chopped pecans or walnuts (optional)
1) Butter a 5 x 9-inch loaf pan.
2) Mash 2 of the bananas in a small bowl, and set aside.
3) Place the other 2 bananas in the bowl of a tabletop mixer. Add the brown sugar and, using the whisk attachment, beat for 3 minutes until light and fluffy. Add the melted butter, eggs, sour cream and vanilla. Beat until just combined.
4) Whisk the dry ingredients in a separate bowl. Stir the flour mixture into the banana sugar mixture using a wooden spoon. Fold in the 2 reserved bananas and the optional nuts. Pour into the prepared loaf pan.
5) Bake in preheated oven until bread is golden brown and a wooden skewer comes clean when inserted into center of loaf. Check after the bread has been baking for 60 minutes. Watch closely so you don't overcook the bread. It may take up to an hour and 15 minutes to finish baking.
6) Cool in the pan for 10 minutes. Turn out and finish cooling on a wire rack.
Enjoy!
~Melissa
You may enjoy these related posts: