Print Friendly Version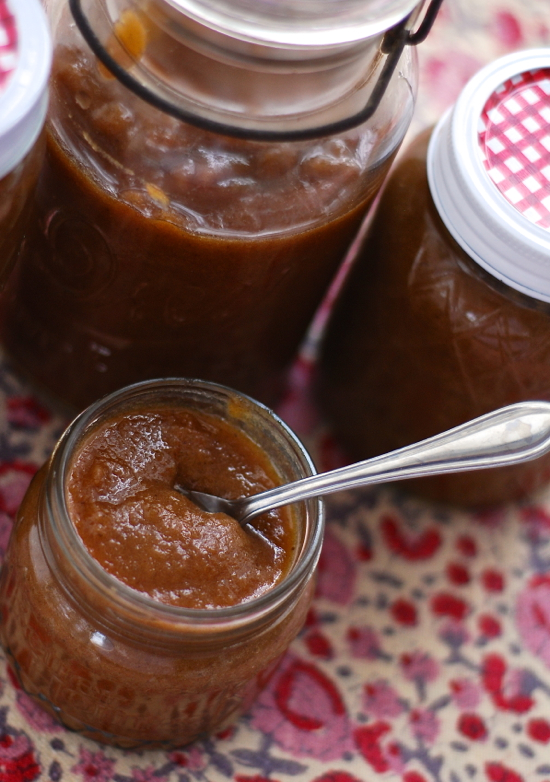 It's simply gorgeous outside today! Just took a little stroll downtown to pick up a few fresh ingredients for our dinner…stopped in at the farmer's market for a huge Hubbard squash on the way home…and decided to do a little antiquing at the antique mall that is only a block away from my house. Of course I found a bunch of great stuff and I almost had to balance the squash on my head to get it home. I felt like Elaine in that episode of Seinfeld when Jerry gives her the weirdly awkward box to carry across town to her apartment. Luckily I returned home  mostly sane and without breaking anything on the sidewalk.
I made a ginormous batch of homemade apple butter yesterday and finally used up all of the apples that we purchased at the orchard and the ones I got from my friend Nancy. I ended up freezing little jars full of the fruit butter so I could add them to Christmas gift baskets this year. This is the very best apple butter I've ever had, and I'm not just sayin' that 'cuz I made it. I'm telling you the truth here. This stuff is gonna knock your socks right off.
approximately 6 and 1/2 lb apples peeled, cored and sliced
2 cups sugar mixed with 1/4 cup blackstrap molasses
1 Tablespoon cinnamon
1/2 teaspoon nutmeg
1/2 teaspoon ground cloves
1 teaspoon salt
1 Tablespoon pure vanilla extract
Place apple slices in large crockpot. Combine all other ingredients and mix with the apples in the crock. Cover and cook on the crockpot's "low" setting for 8 hours or until fragrant and all of the apples are soft. (All of the apple pieces wont get mushy, you'll end up with some big chunks in there. Don't worry about it.) Uncover and cool. Once cool, chill completely (overnight is good.) When completely cool, process in a food processor or with an immersion blender until smooth. Transfer to canning jars. Cover and store in fridge if you plan on using the apple butter within two weeks, or freeze.
Wonderful on toast, scones, bagels with cream cheese, pancakes, muffins, waffles, and pork dishes!
Enjoy!
~Melissa
You may enjoy these related posts: