Print Friendly Version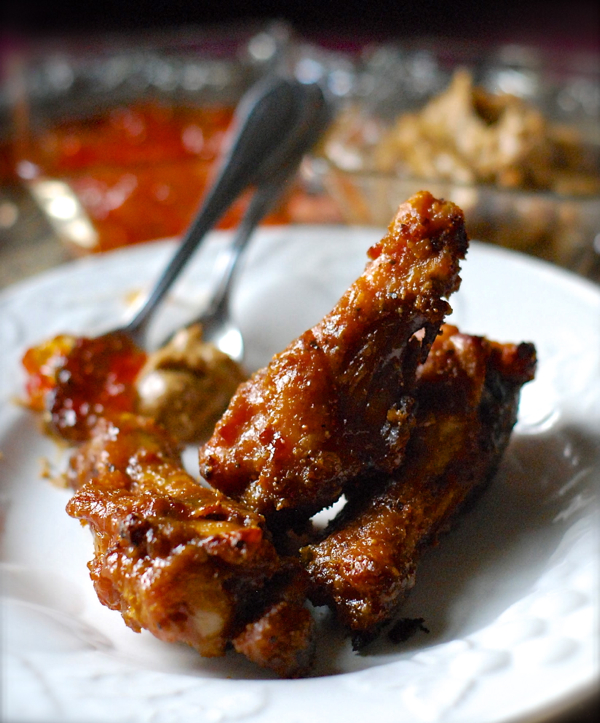 Inspired by a recent visit to a local pub that serves these amazing peanut butter and jelly chicken wings, Jeff decided to make up a batch for Super Bowl Sunday. They turned out so, so good! The sauce is amazing and the texture is perfect. Adjust the spiciness to suit your tastes by adding a little cayenne or red pepper flakes to the sauce, if you wish.
for the wings:
~ preheat oven to 425 degrees F. ~
5 lb. chicken wings (Jeff used the little drummettes)
2 Tablespoons extra virgin olive oil
1 Tablespoon sea salt
1 teaspoon freshly ground black pepper
1 Tablespoon smoked paprika
1/4 cup Potato Buds (instant potato flakes)
Thaw chicken wings and blot them with paper towels until they're very dry. In a large mixing bowl, combine the olive oil, salt, pepper, smoked paprika and potato buds. Place the wings in the bowl and toss to coat well. Place wings on a foil-lined baking sheet and bake them in preheated, 425 degree oven, for 50 minutes, flipping once during the cooking process.
While wings are cooking, make up a batch of this sauce in another large mixing bowl…
for the sauce:
1/4 cup creamy peanut butter
1/4 cup hot pepper jelly (Jeff used Tabasco brand)
2 Tablespoons soy sauce
1/4 cup roasted garlic seasoned vinegar
your favorite sriracha or hot sauce, to taste
1 Tablespoon dark sesame oil
fresh minced garlic or jarred garlic, to taste
Using a whisk, mix the sauce until smooth. Once chicken wings are done, toss them in the sauce until evenly coated. Serve with extra peanut butter and jelly for dipping.
Enjoy!
~Melissa
You may enjoy these related posts: