Print Friendly Version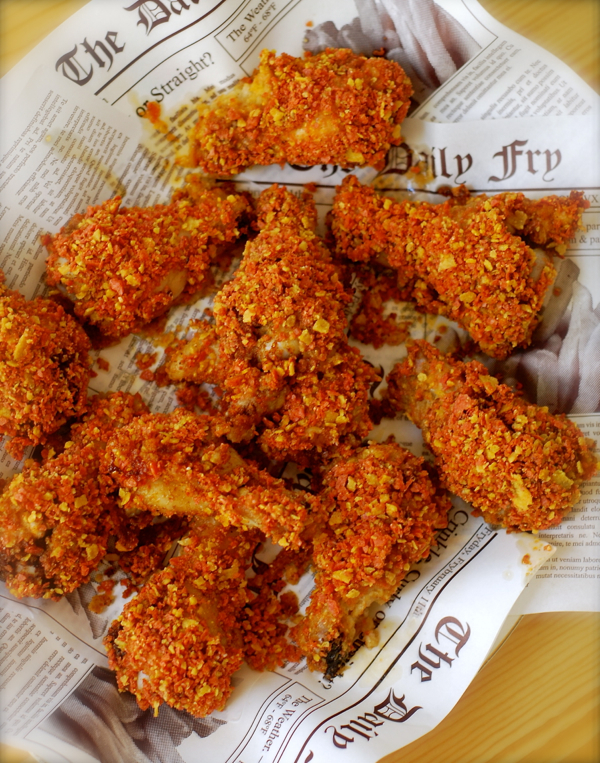 Can you ever really have too many recipes for awesome chicken wings? I think not. Some of our other favorites include: Spicy Peanut Butter & Jelly Wings, Sticky Sweet Chinese Appetizer Wings, Saigon Chicken Wings + Sesame Wasabi Dipping Sauce, and Thai Honey Chile Drummies. They're all good. Try not to lick your computer screen.
Over our little Memorial Day weekend staycation I got busy creating another wing recipe inspired by my favorite food. The taco. Yeah. These are addictive. Proceed with caution and make more than you think you can eat. After you put the leftovers in the fridge they'll magically disappear because they're good cold too.
We used Food Should Taste Good brand chips for our wings because they ROCK.
~ preheat oven to 450 degrees F. ~
3 lb. fresh, meaty chicken wings or drummettes
1 cup all purpose flour
1 Tablespoon onion powder
1 Tablespoon chili powder
1 Tablespoon cumin
1 teaspoon garlic powder
1 teaspoon regular or smoked paprika
1/4 teaspoon cayenne pepper
3 eggs, beaten
1 (5.5 oz.) bag Food Should Taste Good Jalapeno Tortilla Chips, crushed
1 cup Food Should Taste Good Cantina Tortilla Chips, crushed
olive oil cooking spray or 3 Tablespoons melted butter
Pat wings dry with paper towels and place on a platter.
In a big, shallow mixing bowl, combine: the flour, onion powder, chili powder, cumin, garlic powder, paprika, and cayenne pepper. Mix well using a wire whisk.
In a smaller, shallow bowl, beat: the three eggs until frothy.
Place the crushed jalapeno chips and cantina chips in the bowl of a blender and pulse until  crumbs form. Transfer to another large bowl.
Line up your stuff in this order: chicken platter, flour mixture, eggs, crushed tortillas and a large, rimmed baking sheet lined with aluminum foil.
One at a time, dredge chicken wings in flour mixture (shake off excess,) then the egg (shake off excess,) and finally the tortilla chips. Press chips to each wing to coat completely and so they stick. Place wings on lined baking sheet so they're not touching. Spray lightly with the olive oil cooking spray or drizzle evenly with melted butter. Bake in preheated oven for 20 minutes. Carefully flip wings and bake an additional 15 minutes or until crispy and completely cooked all the way through. Serve. Dip in ranch dressing, if you wish.
Enjoy!
~Melissa
You may enjoy these related posts: