Print Friendly Version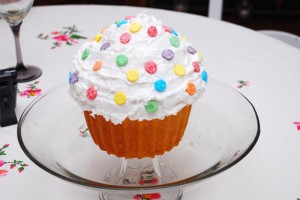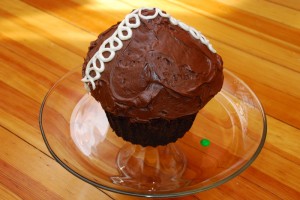 Q: Why did the cupcake major in hotel and restaurant management?
A: It wanted to be a Hostess.
I love cupcakes. They're so cute! I love little tiny ones, regular sized ones that you can display on a cupcake stand with their adorable little papers showing, I love crocheted and knitted cupcakes that aren't even edible but look sweet as a decoration when my covered cake plate isn't full of other delectables…and now I love the giant cupcakes I can make with my giant cupcake pan. I made the chocolate one for Gracie's birthday. She wanted it to look and taste like a Hostess cupcake. I ended up taking a shortcut on the cake and frosting parts and just used Duncan Hine's 'Super Moist' cake mixes (you'll need two) and a jar of their frosting. The top and bottom of the 'cupcake' bake in separate halves of the cake pan. I used Baker's Joy cooking spray to insure easy removal of the cakes from the pan, and it worked splendidly.  🙂 Before you assemble the fully cooled cake halves, cut out the center of the bottom half for the cream filling. Don't cut out too much, or the cake won't be able to support the top half once it's assembled. I know I'm making this sound more complicated than it is. It's so simple. I just want to give you all the little details I gathered while making my first two, to give you a head start.
I made the filling using this simple recipe:
3 Tablespoons all purpose flour
1/2 cup milk
1/2 cup butter
1/2 cup granulated sugar
1 teaspoon pure vanilla extract
Whisk flour and milk in a saucepan and cook over medium heat until thick, but not boiling. Transfer to a bowl. Cover and cool completely at room temperature. When cool, cream butter and sugar until light and fluffy. Add milk mixture and vanilla. Beat on high for seven minutes. Fill the cupcake.
Place cupcake top on the filled base, frost with frosting of your choice (I used chocolate fudge.) Decorate with a white swirl design using the writing tip in your cake decorating kit.
To make the one pictured on the top, just substitute a white or yellow cake mix, buttercream frosting, and use sweet tarts for the sprinkles! You could also use Skittles, Necco wafers, conversation hearts…. whatever your heart desires.
This would make a cute cake for a kid's birthday party or for Valentine's day.
XO,
Melissa
You may enjoy these related posts: