Print Friendly Version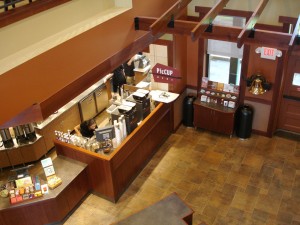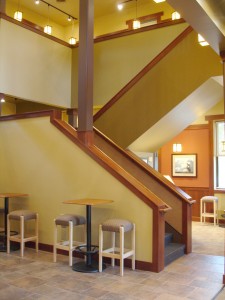 "I love writing. I love the swirl and swing of words as they tangle with human emotions." ~James Michener
I haven't always been a coffee drinker. About twenty years ago I had a can of the stuff that I kept in my freezer so I could offer it to guests, but other than that my Mr. Coffee was just a dust collector. The only 'coffee house' coffee I recall drinking at that time was a Frappuccino I tried on a whim when I was visiting Boston's Quincy Market. Although, Frappuccinos aren't really coffee. More like coffee flavored ice cream. So I guess that doesn't really count.
When Jeff and I started dating he was already a coffee junkie and he suggested we go out to coffee a lot. We joined the bustling U of M crowd in Dinky Town at Espresso Royale where they specialize in what we like to call "The Dark Side of the Moon" roast.  Another of our favorite places to frequent was Espresso Elite in the Blair building on quaint Cathedral Hill. We'd sit and discuss anything and everything, look at magazines, read and dream about the future over steaming, fragrant cups of Joe.
When we got married we were still living in our little White Bear Lake apartment and Jeff started working at a coffee shop on Washington Square called "The Cupping Room." It was a great little place that served wonderful salads, panini sandwiches and an affordable Americano. Another perk was seeing one of the regulars, Billy McLaughlin the guitar playing genius, when he visited the little establishment.
After working at the cupping room Jeff was hired at Caribou and became an assistant manager. By then we were both full fledged coffee freaks. On weekends you would almost always find us at the big Barnes & Noble in Har Mar Mall in Roseville. The combination of the coffee, people watching, and endless rows of books so inspired me that I decided to write my first book. I dreamed of one day doing a book signing at that very Barnes & Noble, and I'm happy to say it's a dream that came true.
I'm still inspired by coffee shops. It's true, I spend a lot of my time at my desk writing, editing, and blogging but I have to say, most of the real writing happens at the beautiful depot building in Red Wing that has been converted into a Caribou coffee shop. When I walk through the front doors and the scent of coffee assails my senses something amazing happens. I'm thinking about including this beautiful building on the dedication page of the book I'm currently writing. I'm sure that without it the book wouldn't be nearly as good as it is. Would it be weird to go running through the front door with a galley copy, yelling "We did it!" ? I don't think so. I'm sure I'll never be able to set foot in that place without my main characters following me and whispering in my ear.
~Melissa
You may enjoy these related posts: