Print Friendly Version
"What is elegance? Soap and water!" ~Cecil Beaton
When it comes to relaxing rituals, there are few that I enjoy more than the simple pleasure of using a bar of handmade soap while taking a long, luxurious soak in my clawfoot tub. I like the earthy scents: patchouli, lavender, tea tree, orange-clove, fig, and oatmeal-almond to name a few.
My favorite handmade soaps are made by this wonderful couple that run a soap company called The Blue Heron Soap Company. I'm running low and will have to make an order soon. The soap pictured is a bar of lavender that I purchased while visiting Nesbitt's Nursery in Prescott Wisconsin, and was made by a little company called Honey Hill Apiary out of Maiden Rock Wisconsin. This is a new favorite!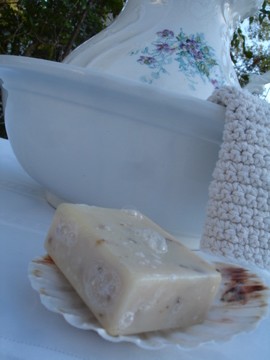 What are your favorite relaxing rituals?
~Melissa
You may enjoy these related posts: