Print Friendly Version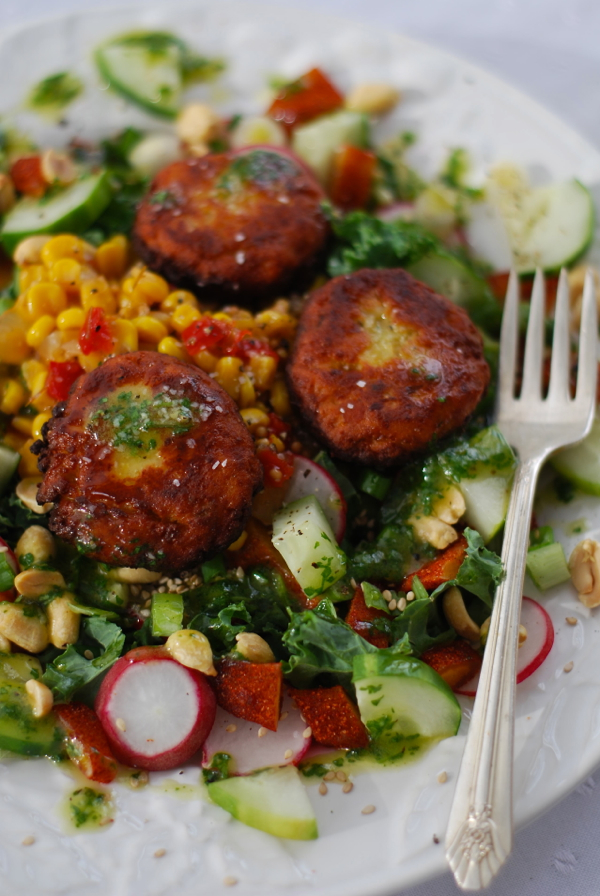 It's the beginning of Christmas vacation for us, and this year it's going to be a full two weeks. Tonight Gracie is at a friend's house for a slumber party and Jeff and I are going out for date night. Dinner and cocktails at a local pub, and then a little drive around town to look at Christmas lights. Such a fun way to begin our winter "staycation."
Here's a totally delicious, very healthy, beautiful vegetarian salad topped with red lentil cakes that is probably quite the contrast from the usual holiday fare. I like cooking like this a few times a week to balance out the days when I just throw a frozen pizza in the oven or we decide to go HERE for dinner. I believe it's all about balance. That being said, you aren't going to miss the meat or the junk food one tiny bit while you're eating this. Nope. It's seriously awesome.
I purchased several of the ingredients for this at Trader Joe's. You can make a list and bring it with you the next time you go shopping there, or, feel free to substitute your favorites for the ones I have listed.
Oh! Before I forget… You can use the 1 cup of all purpose flour (as indicated below) or, you can substitute 1 cup of quinoa flour…or 1/2 cup all purpose flour and 1/2 cup rolled oats (not quick cooking.) The choice is totally up to you.
serves 4
for the lentil cakes:
2 cups red lentils
1 big bay leaf
1 large clove garlic, crushed
3 large green onions, plus the green tops, chopped
1 Tablespoon olive oil for sauteing
3 eggs, lightly beaten
1 cup grated Parmesan cheese
1 cup all purpose flour
1 teaspoon onion salt
1/2 teaspoon black pepper
vegetable oil for frying
Soak the lentils for 2 hours. Drain, cover with water and add the bay leaf and crushed garlic. Cook for 15 to 20 minutes (until "al dente.") While the lentils are cooking, saute the green onions in the olive oil until tender and translucent. Set aside. Remove bay leaf from lentils.  Add cooked lentils to the bowl of a food processor along with the eggs, Parmesan, flour, onion salt, and black pepper. Pulse until pureed and the slightly chunky but mostly smooth. Stir in the sauteed green onions. Form the lentil mixture into little patties, using 3 to 4 Tablespoons of the mixture per portion.
Pour an inch and a half of vegetable oil in a heavy skillet and heat until a little of the lentil mixture sizzles immediately upon contact. Fry the lentil patties, 5 or 6 at a time, until deep golden brown and crispy on each side. Transfer to a paper towel-lined plate. Serve on top of a tossed kale salad (recipe below.)
for the kale salad:
layer on each of 4 dinner plates:
about a cup of torn kale
2 large radishes, sliced thin
2 green onions, chopped (including the tops)
5 or 6 thick slices of cucumber
a handful of dry-roasted peanuts
3 strips Trader Joe's dried chile mangoes, coarse chopped
1 Tablespoon toasted sesame seeds
1/3 cup Trader Joe's Corn Salsa piled in the center of the salad
top with:
the lentil cakes
 a sprinkle of sea salt & fresh pepper
a dollop of plain greek yogurt or tzatziki (optional)
and this delicious cilantro vinaigrette
Enjoy!
~Melissa
You may enjoy these related posts: