Print Friendly Version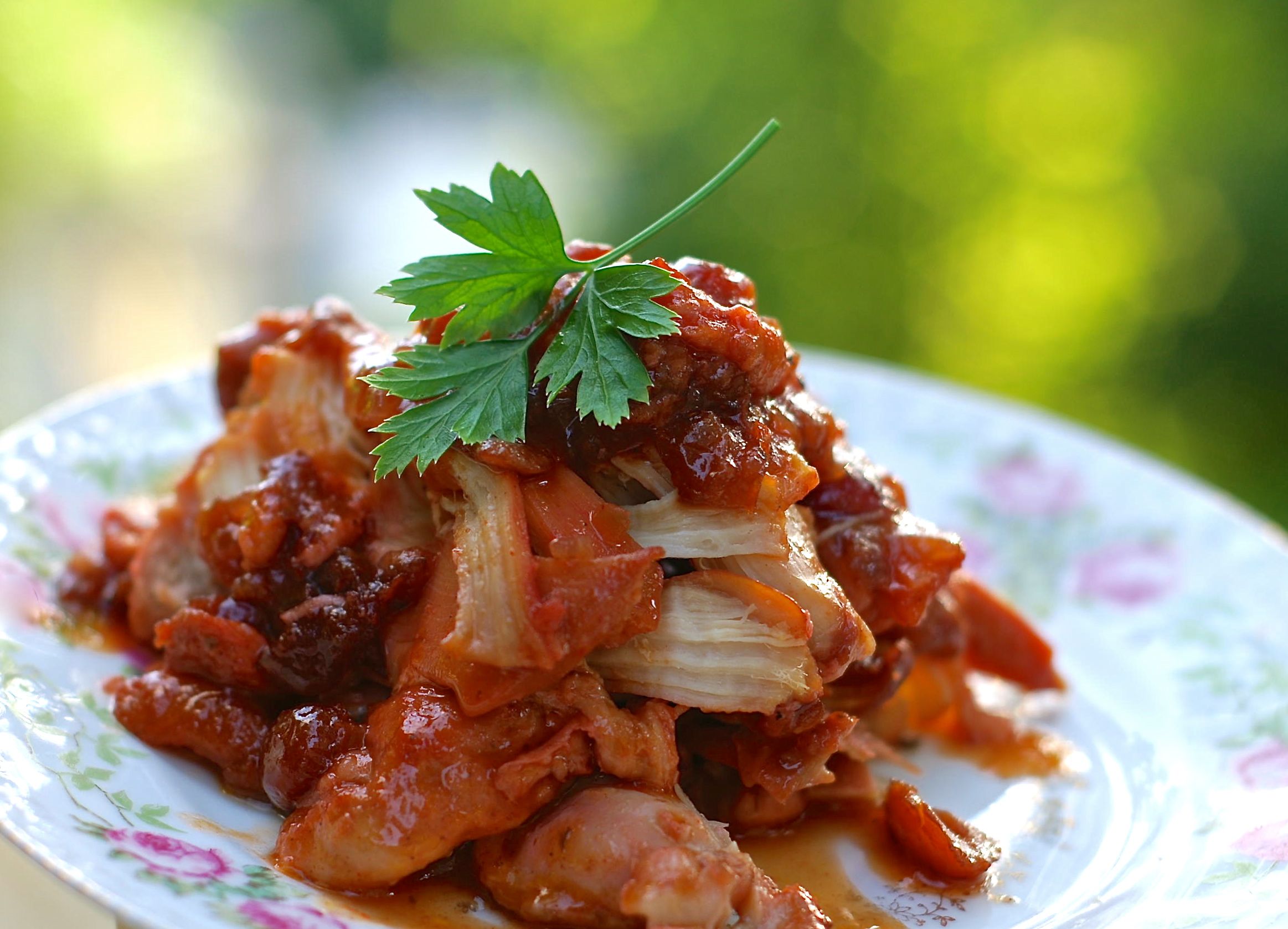 Well, summer is winding down and it has me thinking about school days, and autumn and cozy dinners. I'm consolidating my Crock Pot/Slow Cooker recipes into a big collection to share with all of you. Just in time for fall!
This is such a yummy recipe, and it's so versatile. The cranberry gravy that it creates while it cooks is much like a sweet BBQ sauce. This is wonderful shredded and used as a sandwich filling, as a sweet taco meat, served over brown rice or stacked on toast and buttered mashed potatoes.
Note***If you use chicken breasts for this recipe be sure to remove the chicken from the heat source as soon as it reaches 160 degrees F. If you overcook chicken breasts in the Crock Pot they become dry and rubbery. Chicken thighs are much more forgiving and will still be quite wonderful if you have to turn your slow cooker on warm for and hour after the meat is done.
1 large (or 2 small) onion(s), chopped
2 Tablespoons olive oil
3 lb. boneless skinless chicken thighs or breasts***
1/4 cup white wine
2/3 cup organic ketchup (homemade or store bought)
2 Tablespoons apple cider vinegar
1/4 cup brown sugar
1/4 cup orange marmalade, apricot preserves or peach jam
1/4 cup lite soy sauce or ponzu sauce
1 cup dried cranberries
1 teaspoon smoked paprika
1 teaspoon allspice
1 teaspoon freshly ground black pepper
1 teaspoon garlic powder
1 teaspoon garlic-herb Mrs. Dash
Heat 1 Tablespoon of the oil in skillet. Saute onions in oil until translucent and lightly browned. Transfer onions to Crock Pot. Heat the other Tablespoon of oil in the skillet. Working in batches, brown the chicken pieces in oil for 2 minutes per side, or just until lightly browned and golden. Transfer chicken pieces to slow cooker. Deglaze skillet with the white wine, scraping the pan drippings. Pour the wine and pan drippings over the chicken in the Crock Pot. Mix the rest of the ingredients in a mixing bowl, until smooth. Pour over the chicken. Stir everything together. Cover slow cooker and cook on LOW setting for 4 hours or just until chicken registers 160 degrees F. when tested with a meat thermometer.
Enjoy!
~Melissa
You may enjoy these related posts: