Print Friendly Version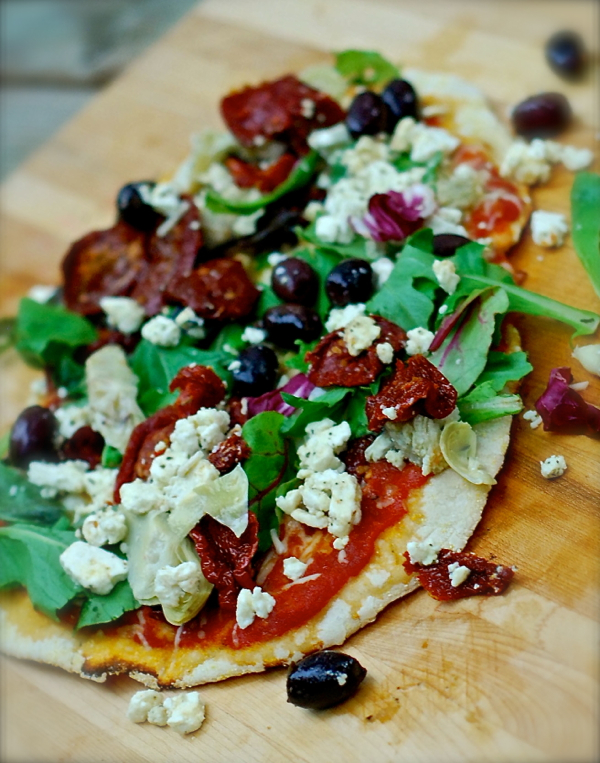 We've been busy dreaming up new grilled pizza recipes! Our latest: Grilled Greek Salad Pizza! This is seriously so amazing. The additional crispness and smokiness achieved from grilling pizza simply can't be beat. I love the combination of flavors in this. The contrast of the hot ingredients and the cold salad is going to knock your socks off.
Before you begin… Go HERE for the basic instructions on how to grill pizza.
~The Crust~
This recipe makes 1 lb. of dough (enough for four 10 inch pizzas.) I add Italian seasonings and a little garlic powder to my crust because I love how it makes the crust taste like garlic bread. If you just want plain pizza crust, leave out the seasonings.
1 teaspoon sugar
1 packet (1/4 oz.) active dry yeast
2 teaspoons extra virgin olive oil
1 teaspoon salt
2 and 1/4 cups all purpose flour (plus a little more for work surface.)
2 Tablespoons dry Italian seasonings (optional)
1 teaspoon garlic powder (optional)
Pour 1 cup warm water into a medium bowl; add sugar and sprinkle with yeast. Let stand until foamy, about 5 minutes. Whisk the oil and salt into yeast mixture. Add flour (and additional seasonings if you're using them.) Stir with a wooden spoon until liquid is incorporated (dough will appear dry.) Turn out onto a floured work surface. Knead until dough forms an elastic ball, about 2 minutes. Transfer dough to an oiled, medium glass bowl. Brush top of dough lightly with oil. Cover with plastic wrap and set in a warm place until dough has doubled in size (45 minutes.) Punch down dough several times. Cover and let rise an additional 30 minutes. Turn dough out onto a lightly floured work surface. Cut into 4 equal pieces. Let rest 15 minutes before using. If you want to store some of your pizza dough to use later, just place the individual dough balls in freezer ziploc bags and they will be usable for up to a month. To use frozen dough, simply remove from freezer and set on counter for about an hour, until thawed.
~Melissa's Pizza Sauce~
You're going to want to make this in advance so it's ready to go when you want to grill your pizzas. I usually make a batch while I'm waiting for the pizza dough to rise. This recipe makes a LOT but it freezes beautifully.
In a large stock pot:
Brown 1/2 cup finely chopped onion in 1/4 cup extra virgin olive oil. Once onion is browned and soft, add two cloves minced garlic and cook until golden brown.
Add:
2 (28 oz. cans) tomato puree (not sauce.)
1/4 cup red wine
2 Tablespoons Italian seasoning (dry)
1 Tablespoon onion powder
1 Tablespoon sugar
2 teaspoons freshly ground pepper
1 Tablespoon salt
1 Tablespoon fennel seed
2 teaspoons garlic powder
Cook uncovered, over low heat until thick and reduced somewhat (about 30 minutes.) Stir occasionally, and watch closely so the sauce doesn't burn.
Grill crust according to THESE INSTRUCTIONS.
~ ~ For the Greek Salad Pizza ~ ~
After you grill the crust on one side and flip it, top with:
red sauce
fresh mozzarella cheese
fresh parmesan cheese
artichoke hearts
sundried tomatoes
fresh oregano, chopped
Cover grill and allow pizza to cook an additional 3 minutes or until cheese is hot and melted and crust is golden and crispy.
Remove pizza to a cutting board and top it with:
kalamata olives
spring greens
crumbled feta cheese
a little fresh lemon juice squeezed over
freshly ground black pepper
Enjoy!
~Melissa
You may enjoy these related posts: