Print Friendly Version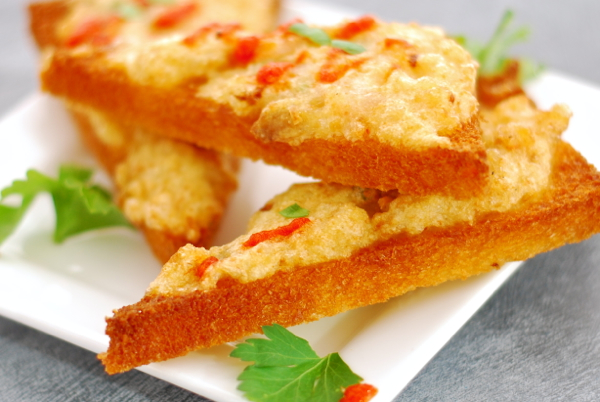 ~ shrimp toast ~
serves 6
We made these addictive little appetizers yesterday over a lovely bottle of wine. They never made it to the table…we just stood in the kitchen and ate them as soon as they were ready. Shrimp toast is the perfect beginning to an Asian themed meal and would be beautiful served as the appetizer course in a bento box lunch. They're not good reheated, but very very fresh, so plan accordingly.
1 lb. cleaned raw shrimp, chopped
10 water chestnuts, chopped
2 green onions, chopped (including green parts)
1 Tablespoon fresh gingerroot, grated
1 teaspoon salt
1 teaspoon sugar
1 teaspoon garlic powder
dash of cayenne pepper
2 Tablespoons sherry, marsala or brandy
2 eggs, well beaten
peanut oil for frying
2 Tablespoons cornstarch
12 slices firm white bread (I like to use Peppridge Farm's Farmhouse Sourdough)
Mix up all the ingredients except the bread. Trim the crusts from the bread slices, and then cut each slice diagonally, forming two triangles. Spread about a tablespoon of the shrimp mixture evenly onto each triangle. Deep fry 3 pieces at a time face down in about one inch of very hot peanut oil, approximately 2 minutes, or until golden and cooked through. Adjust heat so they're cooking evenly in this amount of time without burning. Flip and fry for a couple seconds on the other side. Drain on paper towels and serve immediately. We love these dipped in sweet and sour sauce or Chinese hot mustard and drizzled with a little Sriracha hot sauce.
Enjoy!
~Melissa
You may enjoy these related posts: