Print Friendly Version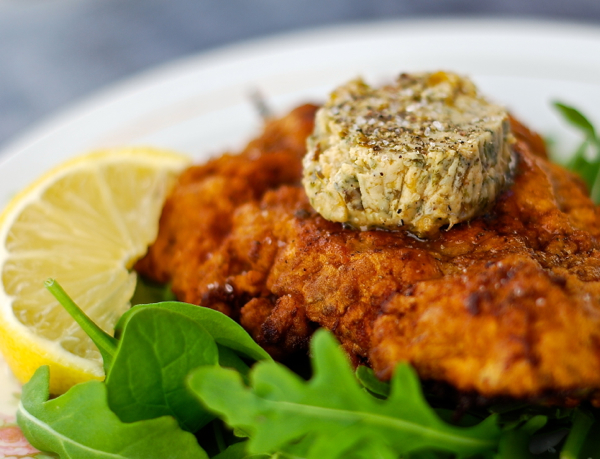 Hello friends. It's been a great beginning of a new week. I worked on my book(s) for a few hours, started cleaning up the remains of the Christmas mess, walked up to the little corner market to get carrots for homemade chicken soup, stopped in at the neighborhood bakery for fresh baguette and doughnuts for dessert, and rambled around my favorite thrift store for a few minutes.
I made these delicious cube steaks over Christmas break and everyone loved them. This is made just like chicken fried steak, but instead of finishing the recipe off with the white country sausage gravy that is so popular with this dish, I opted for a more elegant lemony-herbed maitre d' butter. These are perfect served with oven roasted garlic baby bliss potatoes and arugula salad….garnish with plenty of lemon wedges. So delicious!
first make the Maitre d' Butter :
10 Tablespoons unsalted butter, softened
1 cup minced shallots, green onion or chives
1 teaspoon coarse sea salt
1 teaspoon freshly ground black pepper
2 teaspoons Dijon mustard
1 teaspoon fresh lemon juice
2 teaspoons fresh lemon zest
1 and 1/2 Tablespoons Worcestershire sauce
2 Tablespoons fresh parsley, chopped fine
1 teaspoon dry Italian seasoning
In a medium saute pan, heat 2 tablespoons of the butter over medium heat, then add the shallots. Season with salt, to taste, and cook until they are translucent, 3 to 5 minutes. Transfer the shallots to a medium bowl. Add the pepper, mustard, lemon juice, lemon zest, Worcestershire sauce, parsley and Italian seasoning. Whisk to blend so all of the flavors start to meld together. Allow to cool completely and then use a fork to blend in the other 8 tablespoons of butter. Season with salt and pepper, to taste.
Roll the butter into a cylinder (like cookie dough) in plastic wrap or parchment pepper and refrigerate until ready to use.
for the steak:
4 (1/4 lb each) cube steaks
1 cup all-purpose flour
2 teaspoons Lawry's Seasoned Salt
2 teaspoons freshly ground black pepper
1 teaspoon garlic powder
3 eggs
1/2 cup vegetable oil
Combine flour, seasoned salt, pepper and garlic powder in a large bowl. Whisk eggs in a separate bowl, until frothy. Dredge fresh cube steaks in flour mixture, dip in egg, and then into the flour mixture again. Place on a plate and allow the steaks to rest for 15 minutes.
While the steaks are resting, heat the vegetable oil in a large, heavy skillet until shimmery and almost smoking. When the oil is ready, fry steaks, two at a time, in the oil. Fry for about 4 minutes per side or until a deep golden brown on each side and juices no longer run red when pierced.
Plate steaks. Top each with a generous slice of the Maitre d' Butter. Squeeze extra fresh lemon juice over if desired.
Enjoy!
~Melissa
You may enjoy these related posts: