Print Friendly Version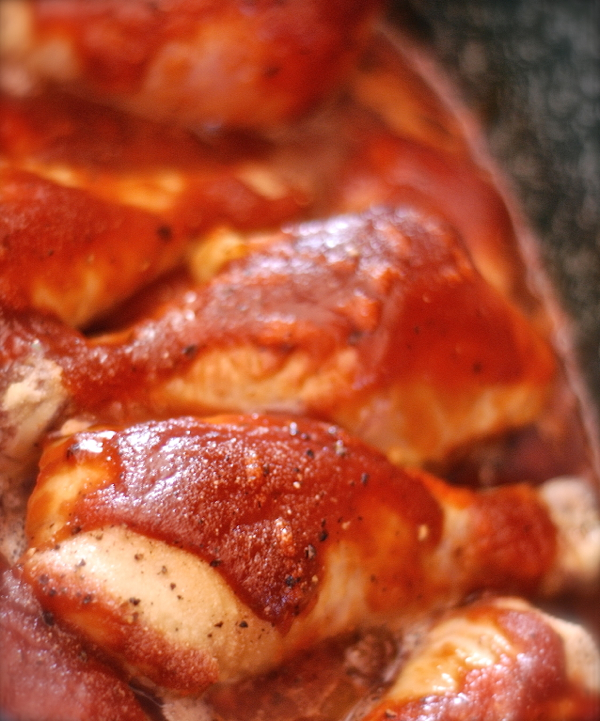 Hello there, and happy Sunday! We're headed out to see a movie and get some fish & chips at the local pub, but I just had to take a minute to write to you and give you this recipe! Are you ready for SUPER easy and delicious? This is one of those recipes that I make a LOT, and it's so good I decided to share. You've probably made a variation of this at some point. I hope you like my version. This is not one of those recipes where you need exact measurements. Just eyeball it. This is a great comfort food dish in the winter months, and a great easy summer dish so you don't have to heat up your kitchen! We like ours with a big tossed green salad and a scoop of my macaroni picnic salad.
 18 large chicken drumsticks
onion powder
garlic powder
salt
pepper
Sriracha
about 20 oz. of your favorite BBQ sauce (I use Sweet Baby Ray's)
Place a layer of frozen or fresh drumsticks on the bottom of a large crock pot. Sprinkle with onion powder, garlic powder, salt and pepper. Pour about 10 oz. of the barbecue sauce over the chicken. Drizzle with Sriracha. Repeat with another layer of chicken, seasonings and sauces. Cover crock pot. Set it on low and let it cook for about 8 hours, or until chicken is done to your liking!
Enjoy!
~Melissa
You may enjoy these related posts: