Print Friendly Version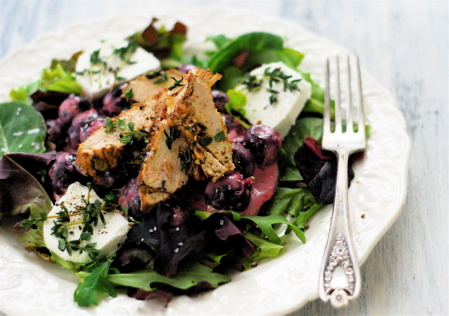 ~ "cherry on top" salad ~
serves 2
I've been having fun experimenting with lots of different fruit in my recipes since discovering Oregon canned fruit. I must confess, I fell for the gorgeous vintage-looking labels on the cans. There's a craft I'll be sharing with you in the very near future that will show you how to repurpose these pretty cans, but in the meantime, let's get cookin'.
What you'll want to do first when making the above salad (gorgeous, isn't it?) is to marinate two large skinless chicken breasts in balsamic much as you would for THIS RECIPE
for the marinade:
1/3 cup balsamic vinegar
2 Tablespoons olive oil
Juice and zest of 1/2 lemon
3 Tablespoons brown sugar
1/4 cup finely chopped, fresh mint
1/4 teaspoon cinnamon
1 teaspoon salt
1 teaspoon black pepper
place chicken breasts in marinade
cover and refrigerate for 1-6 hours
You can play with this marinade recipe to suit your tastes, but the above list of ingredients will give you a general idea as a guideline.
Once your chicken has finished marinating, grill as you usually would and then chill the chicken breasts until you're ready to assemble the salads.
for the cherry dressing, combine:
 one can drained Oregon dark sweet cherries (reserve syrup for another use)
1/4 cup mayonnaise
1 Tablespoon Dijon mustard
1 Tablespoon fresh basil pesto
to make the salad :
Place a generous portion of mixed spring greens, spinach or arugula on two large salad plates
Top with the cherry dressing, dividing it evenly between the two plates
slice a 4 oz. log of chevre into 6 equal discs, place 3 on each salad
slice the chicken breasts on the diagonal and arrange the slices on the salads
sprinkle fresh thyme leaves, coarse sea salt and freshly ground pepper over the salads
Enjoy!
~Melissa
You may enjoy these related posts: