Print Friendly Version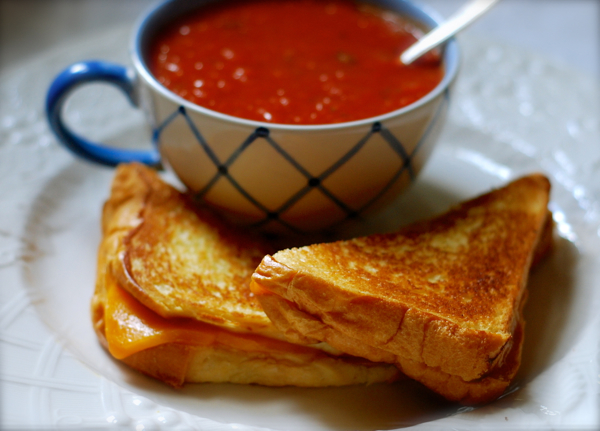 On a cold, rainy, autumn day, what could be better than homemade tomato basil bisque and buttery, cheesy grilled cheese on brioche? It's the prefect, easy, delicious comfort food. You could add a few thin slices of ham to these sandwiches if you like. Change up the cheese too, if you don't have extra sharp cheddar. Havarti, Gruyere, Muenster, Provolone, Pepper Jack, Monterey Jack, American and Brie are all wonderful cheeses for melting.
The key to a phenomenal grilled cheese sandwich is the bread, and for my money, I choose brioche. It's soft, sweet, buttery and eggy. It's high sugar content makes it the perfect bread for grilling, but you have to watch it closely so it doesn't burn.
for one grilled cheese sandwich:
2 pieces fresh brioche bread
thinly sliced melting cheese of your choice
real butter
Heat a heavy skillet over medium-low flame. Butter each piece of bread on one side. Place one of the pieces of bread, butter side down, on the skillet. Place cheese slices on top, and finally place the other piece of bread on top, butter side up. Grill slowly until cheese begins to melt and the bottom piece of bread is golden brown. Flip sandwich. Lower heat if necessary so the bread doesn't get done before the cheese is completely melted. Slice in half on the diagonal and serve immediately with your favorite tomato soup.
Enjoy!
~Melissa
You may enjoy these related posts: