Print Friendly Version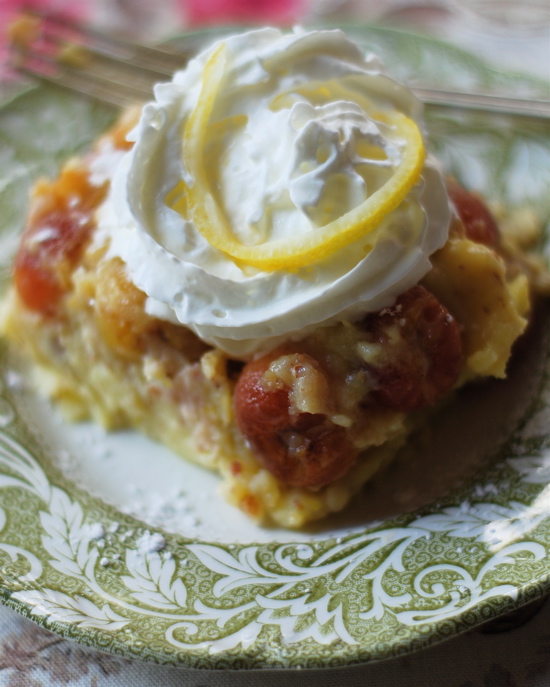 Clafoutis (sounds like kla-foo-tee) is a flan-like French dessert that I like to make during the height of cherry picking season. Traditionally made with black cherries, almonds and lemon…I make mine with pretty pink and yellow Rainier cherries, also known as "Queen Ann" cherries. I like the flavor more than the traditional black, but do a taste test and see what you prefer. I use a little more sugar in my recipe and have substituted buttermilk for regular milk.
I talked to my beautiful friend Jana while pitting the cherries, which made the task much more pleasant. Do you have  trick for pitting cherries that you'd like to share? Please tell me, I would really appreciate any tips.
1 stick of butter, melted
1/2 cup flour
1 pound fresh cherries, pitted
1/2 cup almonds
3/4 cup sugar
1/2 teaspoon salt
4 large eggs
1 cup buttermilk
1/2 teaspoon almond extract
zest of one lemon
powdered sugar and fresh whipped cream for topping
Preheat oven to 350 degrees F. Butter a 7 x 5 glass baking dish. Add pitted cherries to the dish. In the bowl of a food processor, add almonds, sugar, flour and salt. Pulse until the almonds are coarse chopped. In a large bowl mix the eggs, buttermilk, almond extract and lemon zest. Add the melted butter and flour mixture to the wet ingredients in the bowl. Whisk all until evenly incorporated and smooth. Pour over cherries. Bake for 35-50 minutes, or until the clafoutis is set and golden. Serve luke warm or cold with powdered sugar sprinkled over the top and a dollop of fresh whipped cream.
Enjoy!
~Melissa
You may enjoy these related posts: