Print Friendly Version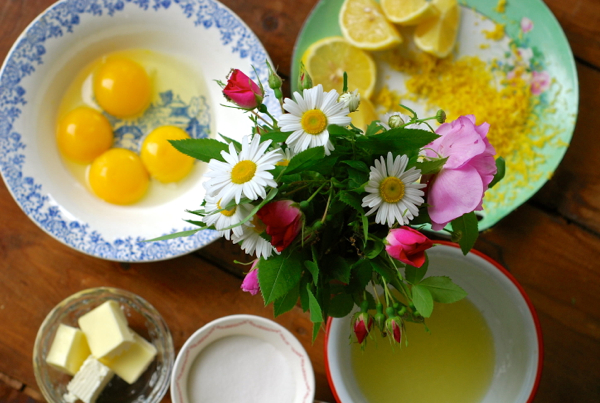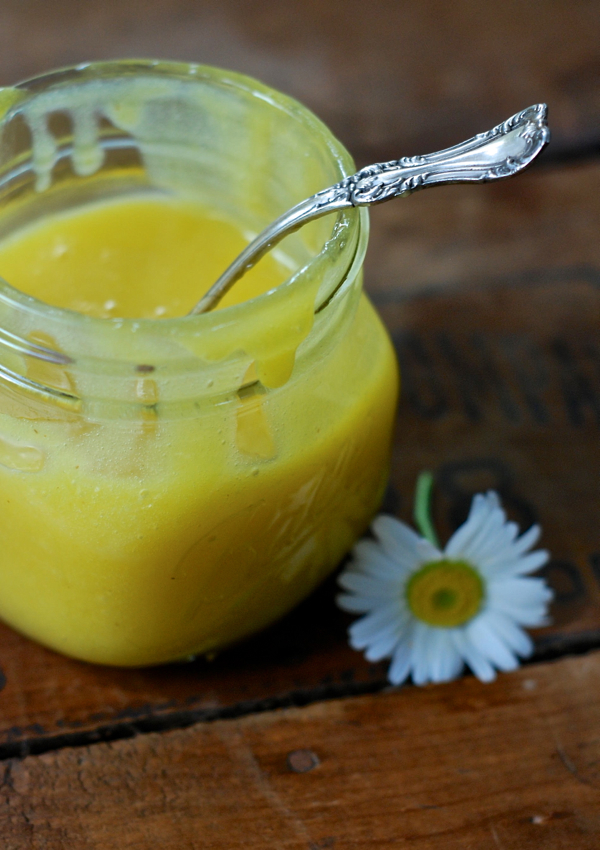 I made lemon curd this past weekend while it was pouring rain outside. We opened all of our doors and windows and just let the breezes gust through the house. The windchimes danced and chimed like mad. We had Led Zeppelin cranked up on the sound system, and we sipped Campari with tonic and talked while I cooked. Jeff had just mowed the lawn that morning after waiting a couple weeks for a lawn mower part to be delivered. The dandelions were seriously taking over the yard. It was kind of embarrassing. I'm glad the city didn't pay us a visit and tell us to mow our lawn or ELSE! 🙂 Anyway, Jeff decided to pick me some flowers while he was out doing yard work. Such a sweet, sweet man.
This is a lemon curd recipe that I developed. I have another recipe for lemon curd that's a little easier, but it's top secret and I'm not allowed to share it. This one is every bit as good and is the star of the show in my Lemon Curd Frozen Yogurt recipe which I'll be sharing with you all tomorrow. We also adore this on toast, and cake and scones…
3 large egg yolks
1 whole egg
3/4 cup super fine sugar
1/2 cup + 1 Tablespoon fresh lemon juice
zest of two large lemons
4 Tablespoons salted butter
1/2 teaspoon pure vanilla extract
In a small saucepan, whisk the egg yolks and whole egg until frothy. While whisking, add sugar, lemon juice and zest. Mix well. Place on a burner over medium heat. Whisk constantly for 8 to 10 minutes (until the curd is thickened and coats the back of a wooden spoon.) Remove from heat. Whisk in the butter, 1 Tablespoon at a time, until melted. Stir in vanilla extract. Strain into a jar. Cover with plastic wrap. Chill in refrigerator for at least an hour before serving. This will keep, refrigerated, for 1 week.
Enjoy!
~Melissa
You may enjoy these related posts: