Print Friendly Version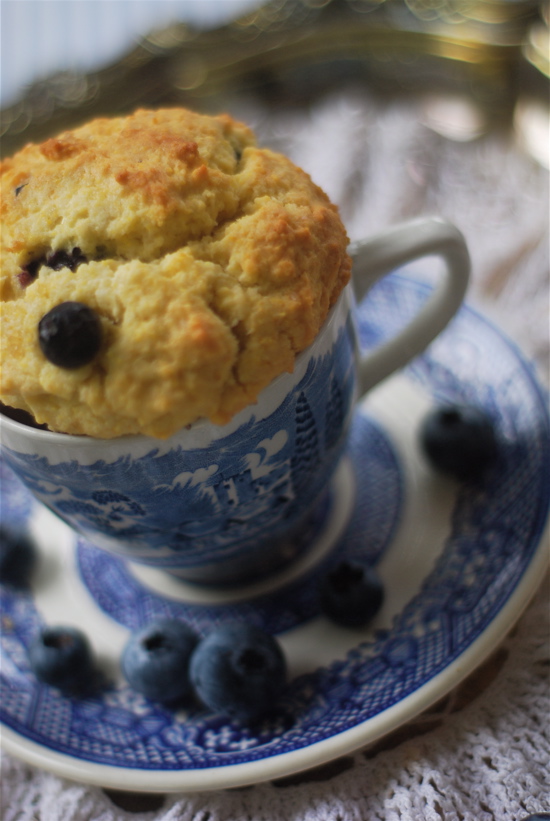 My sweet friend Clare surprised me with a bunch of beautiful, fresh plump blueberries! I'm so excited! Now I'm dreaming up all sorts of recipes incorporating these tasty blue gems. Definitely a pie…and pancakes… maybe a crumb cake?What would you suggest?
Yesterday I got up and made these muffins. One of my favorite muffin recipes. It's a little different then the norm, and pretty easy to put together. The recipe yields 12 big muffins. They're wonderful buttered…or split and topped with fruit salsa and whipped cream! Enjoy with a tall iced tea, lemonade or Arnie Palmer.
2 sticks + 2 Tablespoons unsalted butter, room temp
3/4 cup white or light brown sugar
3 Tablespoons honey
2 large eggs
1/2 cup milk
2 teaspoons pure vanilla extract
3 cups all-purpose flour
1 cup yellow or white cornmeal
3 and 1/2 teaspoons baking powder
1 and 1/2 cups fresh blueberries
raw sugar
Preheat oven to 375 degrees F. Line 12 muffin cups with paper liners. In the bowl of a tabletop mixer, combine the softened butter, sugar, honey, milk and vanilla. Mix on medium speed for one minute.  Add eggs and mix one more minute. In a separate bowl, combine the flour, cornmeal and baking powder. Mix into the wet ingredients by hand, just until evenly combined. Gently fold in the blueberries. Dough should be thick. Distribute muffin dough evenly among the 12 muffin cups. Sprinkle each with a little raw sugar. Bake for 30-40 minutes, or just until lightly browned and a toothpick comes clean when inserted in the center of a muffin. Cool for a few minutes in pan. Transfer to wire racks and cool completely before placing in an airtight container to store. Will keep for 3 days in an airtight container at room temp, or in the refrigerator for a week.
Enjoy!
~Melissa
You may enjoy these related posts: