Print Friendly Version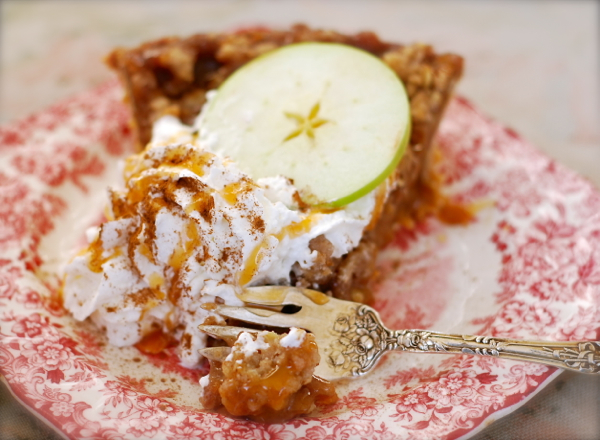 The crunchy, streusel, crumb topping and the addition of creamy, homemade, buttery, caramel sauce (or your favorite store bought caramel sauce) make this pie truly memorable. It's especially easy to prepare if you use a premade pie crust and premade pie filling. I include links to my favorite, never-fail, cream cheese pie crust and to the caramel apple pie jam I used as a filling this time. Sometimes it's fun to make everything from scratch!
~ preheat oven to 450 degrees F. ~
1 (9 inch) premade, deep dish pie crust, completely thawed and pricked with a fork
OR 1/2 recipe for cream cheese pie crust
3 cups apple pie filling + 1/4 cup caramel sauce OR 3 and 1/4 cups caramel apple pie jam
2 Tablespoons heavy cream
Mix the pie filling/jam with the cream and pour into thawed pie crust that's been pricked several times with a fork. Bake at 450 degrees F. for 20 minutes. Remove from oven and reduce oven temperature to 350 degrees F. Top pie with the streusel topping.
for the streusel topping:
1/2 cup all purpose flour
1 cup brown sugar
1/4 cup rolled oats (not quick cooking or steel cut)
1 teaspoon cinnamon
1/4 teaspoon nutmeg
1/4 teaspoon sea salt
6 Tablespoons butter, cut into chunks
Place all streusel ingredients in a mixing bowl. Using your fingers, work the butter into the dry ingredients until a crumbly, uniform mixture forms. Top pie with all of the topping. Place a crust shield on the pie if you have one. Bake an additional 20 to 30 minutes or until crust and top are golden brown and the filling is bubbly.
Remove from oven and cool a bit. Slice and serve warm or cold with vanilla ice cream or sweetened whipped cream. Drizzle more caramel sauce over the top and garnish each piece with a slice of apple to make it pretty.
Enjoy!
~Melissa
You may enjoy these related posts: