Print Friendly Version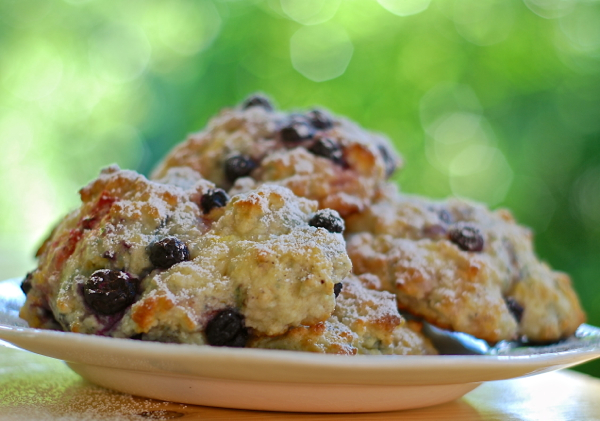 The first time we had these we were staying with Jeff's brother Mike and Mike's wife Robin for a couple's weekend. We were all newlyweds! Such great memories. Robin made these little lemon blueberry biscuits for part of our breakfast and ever since, I haven't been able to go more than a few months without making a batch.
You can use frozen blueberries for this recipe, but nothing beats fresh when they're in season. If you do use frozen blueberries, don't thaw them before adding them to the dough. Just plop them in frozen.
yield: 12 biscuits
preheat oven to 400 degrees F.
for the biscuits:
2 cups all-purpose flour
1/2 cup sugar
2 teaspoons baking powder
1/2 teaspoon baking soda
1/2 teaspoon salt
1 cup lemon yogurt + 2 Tablespoons
1 egg, beaten
1/4 cup butter, melted
zest of 1/2 lemon
1 cup blueberries, fresh or frozen
for the glaze:
1/2 cup powdered sugar
1-2 Tablespoons lemon juice
zest of 1/2 lemon
Combine flour, sugar, baking powder, baking soda and salt. In a separate bowl, combine the yogurt, egg, melted butter and lemon zest. Mix the wet and dry ingredients together until just uniformly moist. Carefully fold in berries.
Drop onto a greased or parchment-lined baking sheet. Bake at 400 degrees F. for 15-18 minutes. While biscuits are baking, mix up the glaze by whisking all ingredients in a small mixing bowl. When biscuits are golden brown, remove them from baking sheet and place them on cooling racks that have been set on waxed paper. Drizzle warm biscuits with the glaze. Serve warm or at room temperature.
Enjoy!
~Melissa
You may enjoy these related posts: