Print Friendly Version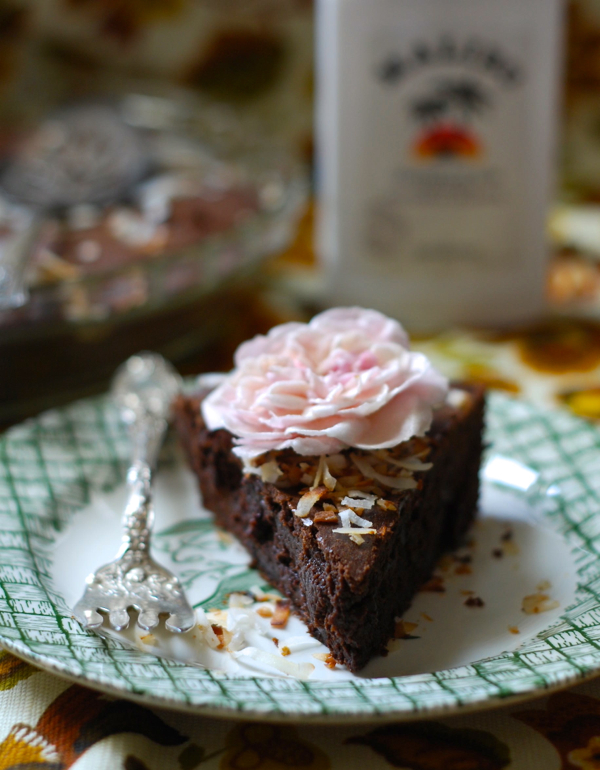 Now that I'm getting the hang of this gluten free thing, I'm having fun. These brownies turned out sooooo good. If you're not going to eat them fresh, just pop them in the microwave for 10 to 20 seconds before serving. Gracie and Jeff had theirs topped with a little fresh whipped cream and a drizzle of caramel sauce. They're awesome with coffee, tea or milk.
~ preheat oven to 400 degrees F. ~
1/2 cup all-purpose, gluten free flour (I used Bob's Red Mill)
1/2 cup buckwheat flour
1/2 cup unsweetened cocoa powder
1/2 teaspoon baking soda
1/2 cup butter, melted
1/2 cup sugar
1/2 cup dark chocolate chips
1/2 cup plain yogurt or buttermilk
1/2 cup Malibu Coconut Rum
1 large egg, lightly beaten
1 teaspoon coconut extract
shredded, toasted coconut
Butter a glass pie plate.
Toast the shredded coconut in a skillet over medium heat on your stove top. Watch closely and stir frequently so it doesn't burn. Remove from heat and set aside.
In a large mixing bowl, combine flours, cocoa and baking soda. Mix with a wire whisk to incorporate dry ingredients. In a separate mixing bowl, combine melted butter, sugar, yogurt, rum, egg and coconut extract. Add wet ingredients to dry ingredients. Mix well. Fold in chocolate chips. Pour into prepared pie plate. Smooth top with a rubber spatula.
Bake at 400 degrees F. for 20-25 minutes or until just set. Allow to cool a bit before cutting into wedges. If you eat the brownies while they're too warm they will be doughy. When they're just slightly warm, they're moist and fudgy.
Plate brownies and sprinkle with a little toasted coconut as a garnish.
Enjoy!
~Melissa
You may enjoy these related posts: