Print Friendly Version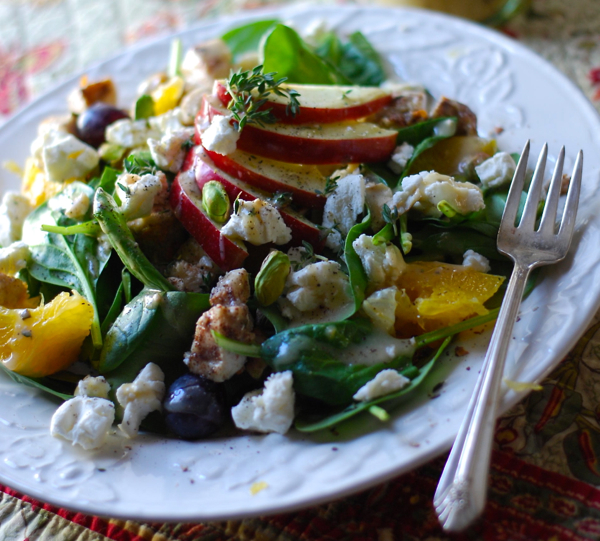 I've been enjoying all sorts of different, big salads for lunch these days. I like them topped with lots of yummy stuff and a chunk of lean protein. This salad is topped with a baked chicken breast (that probably would have been grilled if it was summer.) Other awesome, lean, high-protein sources you could top your lunch salads with would include: lean steak, shrimp, salmon, ahi tuna or pork tenderloin,  just to name a few.
I find that eating a salad like this for the noon-time meal not only curbs my appetite until dinner, but when I top it with fruit, it also satisfies my cravings for sweets and dessert.
for 4 large meal-sized salads:
4 medium size boneless, skinless chicken breasts
1/4 cup white wine vinegar
1 Tablespoon cinnamon
3 Tablespoons extra virgin olive oil
1 Tablespoon grated fresh ginger
zest of one small orange
Cut little slits all over chicken breasts using a very sharp knife. Place the chicken in a large, heavy duty Ziploc bag. Combine the rest of the ingredients in a big bowl and mix with a wire whisk until evenly incorporated. Pour this marinade over the chicken in the bag. Seal the bag and moosh the marinade all around the chicken. Put Ziploc in a bowl and place bowl in refrigerator. Allow the chicken to marinate for 2 to 24 hours before grilling or baking. To bake: remove chicken from the marinade, transfer to a glass baking pan and cook at 350 degrees F. for 25 to 30 minutes, or until chicken juices run completely clear when chicken is sliced.
Chill cooked chicken in refrigerator until ready to top your salad. Cut into chunks.
In 4 single serving size salad or pasta bowls, add the following ingredients in this order:
spring salad greens or baby spinach
orange slices
goat cheese or feta chunks
grapes
chilled chicken chunks
apple slices
shelled pistachios (or other nuts)
a sprinkling of fresh thyme and Trader Joe's Pear Champagne Vinaigrette
or THIS homemade pear salad dressing.
Salt and pepper to taste
Enjoy!
~Melissa
You may enjoy these related posts: