Print Friendly Version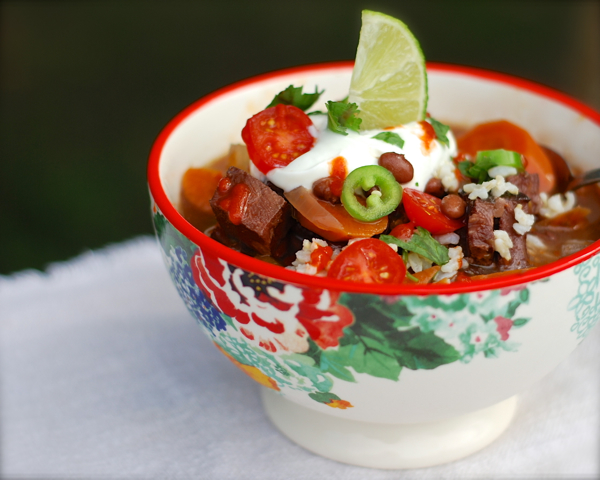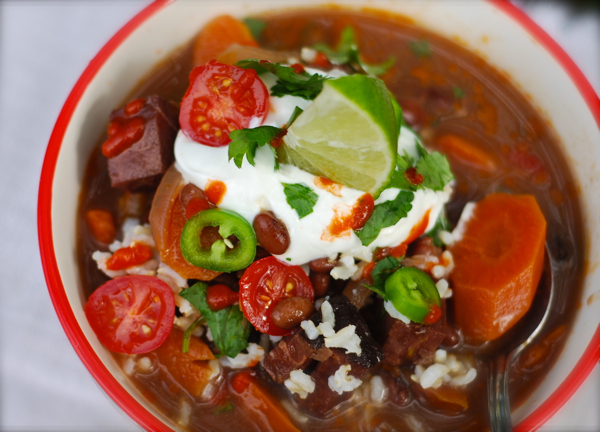 Cuban black bean soup is one of those recipes you can make all year long. I love all the fresh flavors from the fun condiments you add just before serving it up. Tomatoes, cilantro, avocado chunks, jalapenos, lime wedges…
Sometimes I make this and add chopped, boiled egg. Sometimes I add a little scoop of cooked brown rice. I always add a dollop of greek yogurt and a drizzle of Sriracha. We love this soup with Cuban sandwiches or pan frito garlic bread. How do you like yours?
for the soup:
1 lb. dry black beans
7 cups low sodium chicken stock/broth
1/2 cup red wine
1/4 cup extra virgin olive oil
juice of one large, juicy lime
1 large, smoked ham hock
16 oz. petite diced tomatoes + juice from can
3 Tablespoons tomato paste
1 large onion, chopped
1 sweet bell pepper, seeds and stem removed, chopped
3 ribs of celery + leafy green tops, chopped
 6 large carrots, peeled and sliced
4 large garlic cloves, minced
1 Tablespoon cumin
1 Tablespoon fresh oregano, chopped fine (or dry)
2 large bay leaves
2 Tablespoons sherry
salt and pepper, to taste
Place beans in a colander and rinse. Transfer to a large pot or bowl and cover with several inches of water. Place in refrigerator so they can soak for 8 hours (I always do this the night before so the beans are ready to go in the morning.)
When beans have soaked for 8 hours, drain them and transfer to a 7 to 8 quart slow cooker. Add: stock, wine, fresh lime juice, oil, ham hock, tomatoes + juice, tomato paste, onion, bell pepper, celery, carrots, garlic, cumin, bay leaves, and oregano. Stir. Cover and cook on LOW for 8 to 10 hours, or until beans are tender.
Once beans are completely cooked, remove the ham hock from the pot. It should be very tender at this point, and the meat should be easy to remove. Remove meat, shred it and add it back to the pot. Discard bone. Remove the bay leaves from the soup at this time too.
Remove 2 cups of the beans from the pot and place them in a small mixing bowl. Mash them with a large fork. Return them to the pot. Stir in the sherry. Salt and pepper to taste.
Ladle soup into bowls and serve with any or all of the following condiments:
fresh cilantro sprigs, chopped
sour cream OR plain greek yogurt
diced tomatoes
diced green onions OR snipped fresh chives
diced avocado
cooked brown or white rice
hard boiled eggs, chopped
lemon and lime wedges for squeezing over top
your favorite hot sauce (we like sriracha and Cholula)
Enjoy!
~Melissa
You may enjoy these related posts: