Print Friendly Version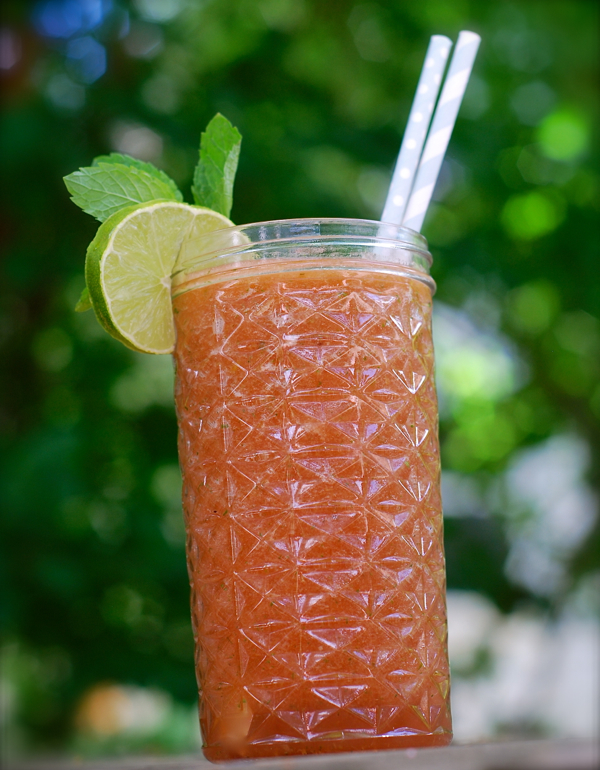 Although we've turned the calendar to September, there are still some hot days ahead. Here's one of our favorite ways to cool down. Agua fresca! It's delicious, healthy, and fruity! Feel free to add more honey if it doesn't seem sweet enough for you. The secret is to use perfectly ripe, sweet fruit. Cheers!
for 2 quarts
2 and 1/2 cups purified water OR spring water
1/2 cup raw honey
1 small bunch mint, divided
1 small seedless watermelon peeled and cut into cubes (10 cups fruit)
1/4 cup to 1/2 cup fresh lime juice
Mix water, honey, and most of the mint in a saucepan. Bring to boil. Remove mint and discard it. Allow syrup to come to room temperature.
Meanwhile, as the syrup cools, puree the watermelon in a blender. You'll have to do this in batches. Once pureed, pass through a fine-mesh strainer or a strainer lined with cheesecloth. Mix watermelon juice and syrup in a pitcher. Stir. Add lime juice. Stir again, and adjust sweetness if needed. Enjoy over ice with some of the reserved mint and lime wedges as garnishes. You'll want to drink your agua fresca within 24 hours, and it's best very fresh.
Enjoy!
~Melissa
You may enjoy these related posts: