Print Friendly Version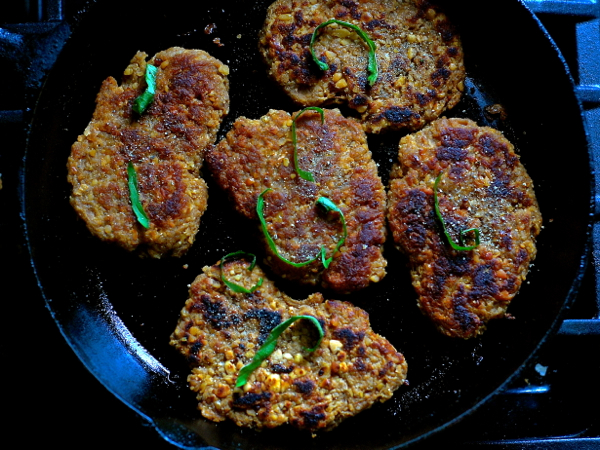 Have you ever tried making seitan? (aka "wheat meat.") It's this amazing, vegan protein that's created by combining vital wheat gluten with other savory ingredients. Sometimes it's boiled, sometimes it's steamed, and sometimes it's baked. In this case it's pan-fried. Vital wheat gluten is high in protein, vitamins, and minerals, and low in fat and carbs. It's fantastic stuff.
I tried making seitan for the second time last night and was pleasantly surprised by the success of this recipe. For you seitan connoisseurs this is admittedly a "shortcut" compared to other seitan recipes I've seen. These cutlets are ridiculously easy to prepare, and they go together in a flash. Within an hour you'll have dinner on the table.
Note: The more you handle seitan, the chewier it gets. If you're looking for chewy, knead for 3 minutes. If you want a lighter, more "tender" seitan, knead for two.
Makes 8, small cutlets (So, 4 servings)
1 (15 oz. can chickpeas, rinsed and drained)
1/4 cup olive oil plus more for pan frying
4 large garlic cloves, minced
1 cup vital wheat gluten (I use Bob's Red Mill)
1 cup plain bread crumbs (the dry variety, not fresh)
1/2 cup vegetable broth
1/4 cup soy sauce or liquid aminos
1 teaspoon dried marjoram or oregano
1 teaspoon smoked paprika
1/2 teaspoon dried sage
a couple dashes of chipotle powder
Place rinsed, drained chickpeas in bowl of food processor and pulse to break them up. You don't want puree, just coarsely chopped.
Place chickpeas along with all other ingredients in a large mixing bowl and stir to combine. Transfer to a clean work surface and knead for 2 to 3 minutes. You'll want to see the gluten strands appear before moving on to the next step.
Divide cutlet dough into 8 equal pieces. Flatten and stretch each piece to form a "cutlet."
Preheat large, heavy-bottomed skillet over medium-low heat. I use cast iron for this. You'll be frying the cutlets in two batches unless you have two skillets. Cover bottom of pan with olive oil. Not too much, you don't want them swimming in oil, just a thin layer.
Place 4 cutlets in hot pan and cook each side for approximately 4 minutes. Cover them as they cook and press them down with a spatula occasionally to help them cook more evenly. Add a little more oil, if needed.
Once all cutlets are cooked, firm to the touch, and golden brown on both sides, transfer them to a plate to rest for 10 minutes. Grind a little black pepper over tops and serve.
Yummy with mushroom gravy, mashed sweet potatoes, a crisp green salad, and cranberry sauce.
Enjoy!
~Melissa
You may enjoy these related posts: