Print Friendly Version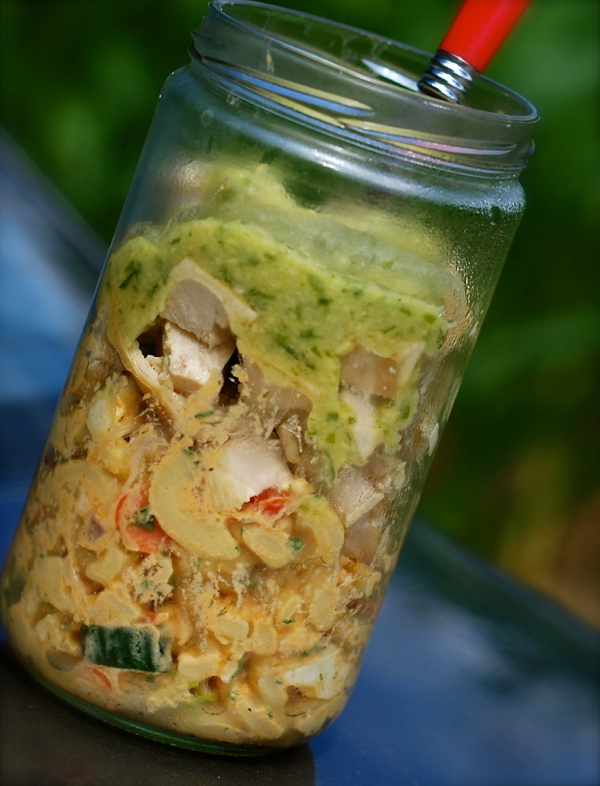 Looking for a wonderful, filling, healthy lunch that you can take with you? I made up a few of these this past Sunday for our picnic at the local swimming hole and they were a hit! They're easy to prepare and the perfect, satisfying meal after a long swim in the great outdoors.
I adapted this from my recipe for Cold Hawaiian Ginger Chicken. In Hawaii it's common to eat this particular plate lunch with cold macaroni salad, so whip up a batch of your favorite. If you don't have a favorite, you can make either THIS one or THIS one 🙂 Both are wonderful!
Next, make up a batch of ginger sauce: 
2 cups fresh ginger, peeled and chopped
8 stalks green onion plus tops, chopped
4 large cloves garlic
3 cups extra virgin olive oil (or a combination of EVOO and peanut oil)
6 Tablespoons white vinegar or apple cider vinegar
1/2 cup brown sugar
1 to 2 teaspoons  sea salt (to taste)
Puree in food processor until smooth. Chill completely. This makes a lot, so feel free to cut the recipe in half if you like. It freezes beautifully and I like to have some on hand in the summer for a quick, easy topping for grilled chicken!
Lastly, grill or bake up a few large chicken breasts (or however many you need, depending on how many people you'll be serving.) Cover and chill the cooked chicken breasts completely.
Putting the jars together:
Place your clean, wide mouth canning jars side by side on the counter. Place a cup of prepared macaroni salad in the bottom of each jar. Top the macaroni salad with a large, cooked, completely chilled chicken breast that has been cut into bite size chunks. Top the chicken with 1/4 cup of the ginger sauce. Cover tightly and keep cold until ready to serve. If you're taking these on a picnic, just push the jars into ice in your picnic cooler until you get to your destination and are ready to eat.
Enjoy!
~Melissa
You may enjoy these related posts: