Print Friendly Version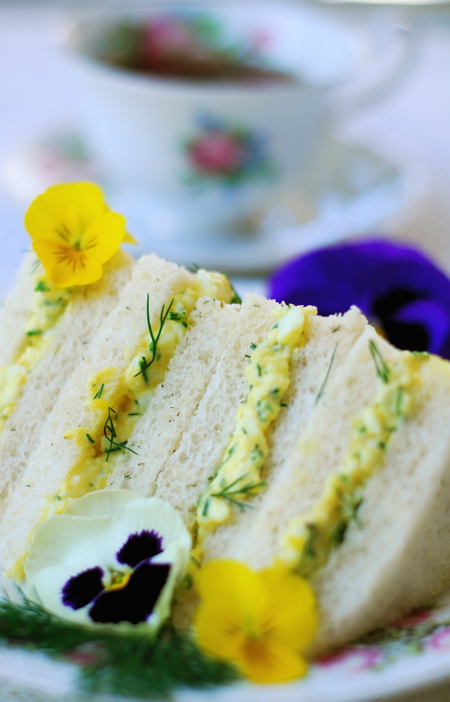 ~ dilly egg salad tea sandwiches ~
Pretty tea sandwiches, arranged just so on a tiered server or a pretty antique platter, are one of my favorite parts of a leisurely teatime. I just love all of the  textures, ingredients, breads and flavor combinations. Some of my favorites: Proper cucumber, carrot cheddar curry, flower radish with wasabi lemon mayonnaise, Paris garden, chicken salad on sweet quick bread, turkey with strawberries basil & brie, and this yummy recipe for the perfect egg salad. These little sammys are sweet and creamy with a little crunch from the pickle, and the fresh taste of dill and chives in every bite….
7 hard boiled eggs, chilled
1/4 cup real mayonnaise
2 teaspoons yellow mustard
1/4 cup fresh dill and chives, chopped fine
10 sweet pickle chips, chopped
1 Tablespoon sweet pickle juice
1 Tablespoon sugar
salt and pepper to taste
Happy TeaTime Tuesday! I'll be back every Tuesday with more tea treats for you.
What is your favorite kind of tea sandwich?
~Melissa
You may enjoy these related posts: