Print Friendly Version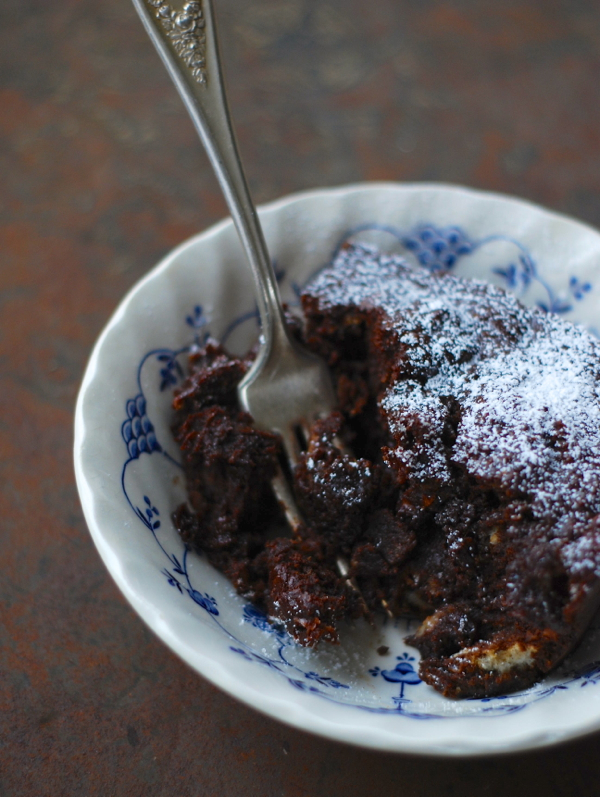 It's the beginning of an exciting week for me. I was selected to be one of 16 food bloggers to compete in a recipe challenge for Captain Morgan Spiced Rum! I feel so honored. I'm looking forward to making cocktail and food creations in three categories, starting with Thanksgiving. I already know what I'm going to make and I plan on getting the ingredients this week so I can perfect my ideas.
We had a nice, relaxing weekend. Lots of cooking, a little more work on the house, dinner out, reading, fireplace lounging, tea drinking… you get the idea.
One of the things I made was this yummy, rich, chocolate dessert. It's so easy. I got the idea to create a treat so I could use up a bag of day old, bakery hot dog buns and the big block of unsweetened Baker's chocolate. You can use any white bread that you like for this. If you're going to be using bread slices, I'd say to tear up approximately 12- 14 slices. Feel free to keep the crusts on, or cut them off, whatever you prefer. I used 10, big hot dog buns.
6 and 1/2 Tablespoons butter
1 cup unsweetened chocolate, chopped into chunks
1 cup sugar
1/4 cup heavy whipping cream
4 large eggs
10 big hot dog/bratwurst buns (or 14 slices white bread, torn)
1 teaspoon pure vanilla extract
Preheat oven to 350 degrees F. Butter a 4 to 6 cup oven proof casserole dish or baking pan. Melt the butter and add it to the chocolate chunks and sugar in a medium saucepan or double boiler. Stir just until everything is melted and smooth. If you're not using a double boiler, be very careful to cook the chocolate mixture over low heat, stirring constantly so it doesn't burn.
Remove from heat, stir in cream. Allow to cool slightly. Beat the eggs and mix them into the chocolate mixture. Using a wire whisk, stir until smooth and custard-like. Mix in the vanilla.
Place the torn up bread pieces in a big mixing bowl. Pour the chocolate mixture over. Using a wooden spoon, stir until all of the bread is well coated. Allow to sit for 5 minutes.
Place the custard pan in another larger baking pan. Pour enough hot water into the larger pan so it reaches half way up the sides of the custard pan. Carefully place these in the oven. Bake for 30 to 40 minutes or just until the custard is set and the top is slightly firm and crusty.
Scoop out into serving dishes (I like to use pretty bowls or teacups.) Serve warm with a little ice cream, if you wish. I think a dusting of powdered sugar over each serving looks nice.
Enjoy!
~Melissa
You may enjoy these related posts: