Print Friendly Version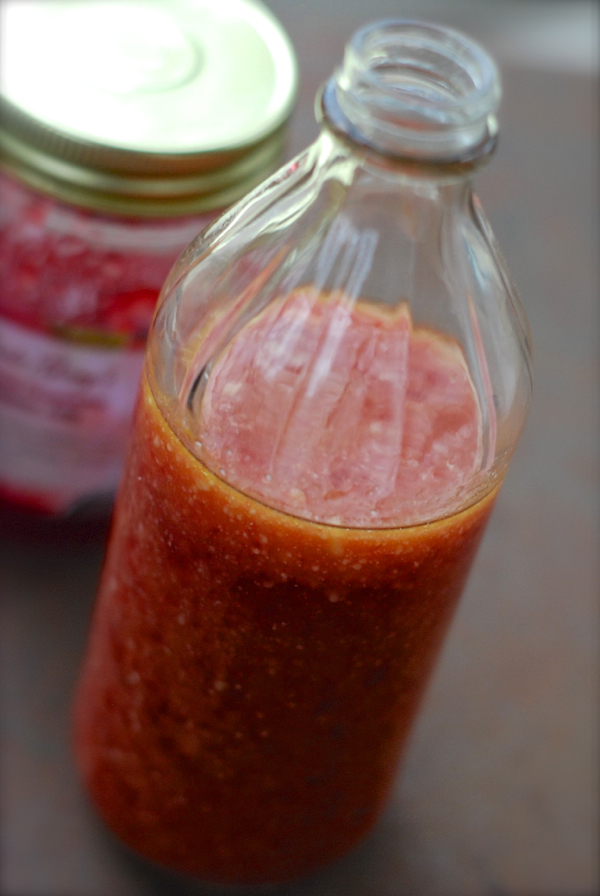 Currently enjoying: Uncle Gary's Original and Raspberry Pepper Jellies and BBQ sauces on EVERYTHING. From rustic turkey-gruyere sandwiches on wheat toast to brekky eggs. The Zesty Peach BBQ transforms humble meatloaf to ambrosia. Today I had some of the Candied Jalapeno BBQ swirled into a bowl of brown rice and beans for my lunch. Let me just say, this simple, healthy dish has never tasted better. Truly. You must try it.
My family keeps sneaking these delicious condiments. Every day I go into the refrigerator and see they've been depleted a bit more. I couldn't let the last of the gorgeous, jewel toned raspberry jalapeno disappear without creating a salad dressing featuring it. You use a lot of it in this recipe, but it's totally worth it.
See THIS POST for 38 more Healthy Homemade Salad Dressings… This little gem makes 39.
1/2 cup Uncle Gary's Gourmet Raspberry Jalapeno Pepper Jelly
2 tablespoons apricot preserves
1/3 cup apple cider vinegar or white balsamic vinegar
juice of 1/2 lemon
1/3 cup Parmesan cheese
1/3 cup extra virgin olive oil
1/4 cup super fine sugar
1 to 2 teaspoons sea salt (to taste)
1/2 teaspoon cayenne pepper
Place all above ingredients in a bowl and mix well with a wire whisk. Decant into a glass bottle or canning jar. Enjoy immediately or cover tightly and store in refrigerator until ready to use. When ready to use, allow to sit on the counter for an hour to come to room temperature. Shake well. The oil in the dressing will separate in the cold refrigerator. This is normal. This dressing will keep for 2 weeks in the fridge.
Enjoy!
~Melissa
You may enjoy these related posts: