Print Friendly Version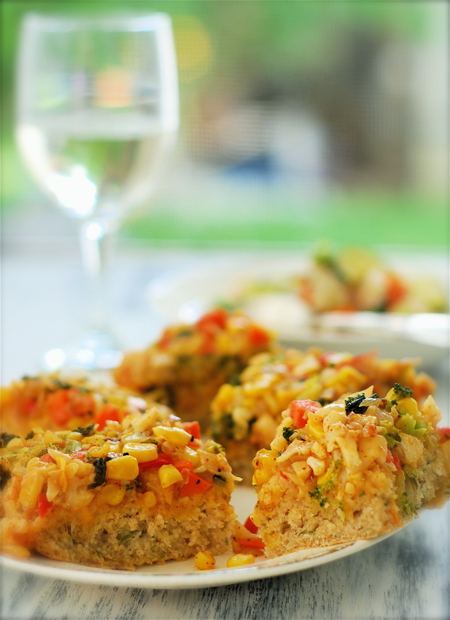 ~ savory veggie confetti upside-down cake ~
This wonderfully flavorful, moist, festive cake was inspired by Molly Katzen's recipe, from her book, The Enchanted Broccoli Forest.  It's  beautiful, and quite possibly the best "soup" bread I've ever made. I think it would be lovely served alongside cottage cheese dill bread and sweet wheat batter bread for a cozy soup supper. I changed the recipe a little bit, but the spirit is still the same.
PART I : THE VEGGIES
3 Tablespoons butter
1 heaping cup chopped onion
1/2 cup chopped bell peppers (red, yellow and orange)
2 cups small broccoli florets
1 medium carrot, peeled and diced
1 cup small cauliflower florets
1 cup fresh corn
3 teaspoons garlic powder
salt, pepper and chili powder to taste
1 packed cup grated extra sharp cheddar cheese
Preheat oven to 350 degrees F. Grease an 8 inch cake pan with 2 Tablespoons of the butter. (I know, it seems like a lot, but use it all.) Start a medium sized saucepan full of water heating on the stove. Have a strainer and a bowl of ice water ready. Melt remaining tablespoon of butter in a skillet. Add the onion and saute until translucent (about 8 minutes.) Meanwhile, while the water in the saucepan comes to a boil, drop in broccoli, carrot and cauliflower. Blanch for 30 seconds. Drain in strainer. Immediately drop into the ice water. After 3 minutes, drain again. Blot veggies dry with paper towels. Add the carrot mixture to the onions in the skillet, along with the chopped bell pepper and corn. Add garlic powder, salt, pepper and chili powder. Mix well. Spread evenly in the bottom of the buttered cake pan. Sprinkle the shredded cheddar evenly over the veggies.
PART II : THE CAKE
1 cup all-purpose white flour
1/2 cup whole wheat flour
1 teaspoon baking powder
1/2 teaspoon baking soda
1/2 teaspoon salt
3 Tablespoons brown sugar
1/4 cup fresh lemon thyme, dill, oregano, tarragon and parsley (chopped fine)
1 large egg
1 cup buttermilk or plain yogurt
2 Tablespoons melted butter
In a large mixing bowl, combine flours, baking powder, soda, and salt. Mix well and form a "well" in the center. Add egg and lightly beat. In a separate bowl, combine the brown sugar, herbs, buttermilk and melted butter. Stir until just combined. Add the buttermilk mixture to the beaten egg in the center of the dry mixture and stir until just combined.  Carefully, using a rubber spatula, spread batter over the veggies and cheese in the cake pan as evenly as possible. Bake for 45 minutes or until a wooden skewer or toothpick inserted into the center of the cake comes clean. Allow the cake to sit for 10 minutes. Invert onto a pretty serving platter. Cut into pieces. Serve hot, warm or at room temperature.
Enjoy!
~Melissa
You may enjoy these related posts: