Print Friendly Version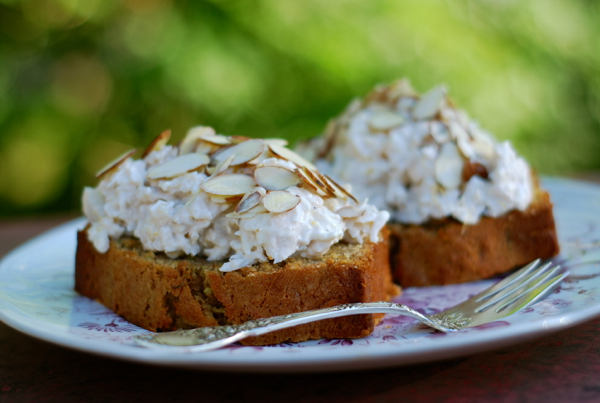 ~ tea room chicken salad ~
This was a favorite at my friend Bonnie's tea room, the Tale of Two Sisters, here in Red Wing Minnesota. The tea room is no longer open, but this recipe is legendary. Try it and see why!
Because the size of chicken breasts varies so much, I like to make this recipe by "taste." It's so easy, only a few ingredients, so it's definitely a recipe where you don't need exact measurements. It turns out great every time.
3 or 4 large, boneless, skinless chicken breasts
 1/4 cup to 1/3 cup mayonnaise
2 Tablespoons Major Grey's Mango Chutney (or more)
a loaf of Amish Friendship Bread or zucchini bread
sliced or slivered almonds
paprika, salt and pepper
Cook chicken breasts completely. Chill well. Chop fine. Add the mayonnaise, chutney, salt and pepper to taste (add the wet ingredients gradually, until it is moist but not goopy.) Pile the chicken salad on pieces of the sweet bread. Sprinkle with almonds and paprika. Serve open faced with your favorite kind of tea.
Enjoy!
~Melissa
You may enjoy these related posts: